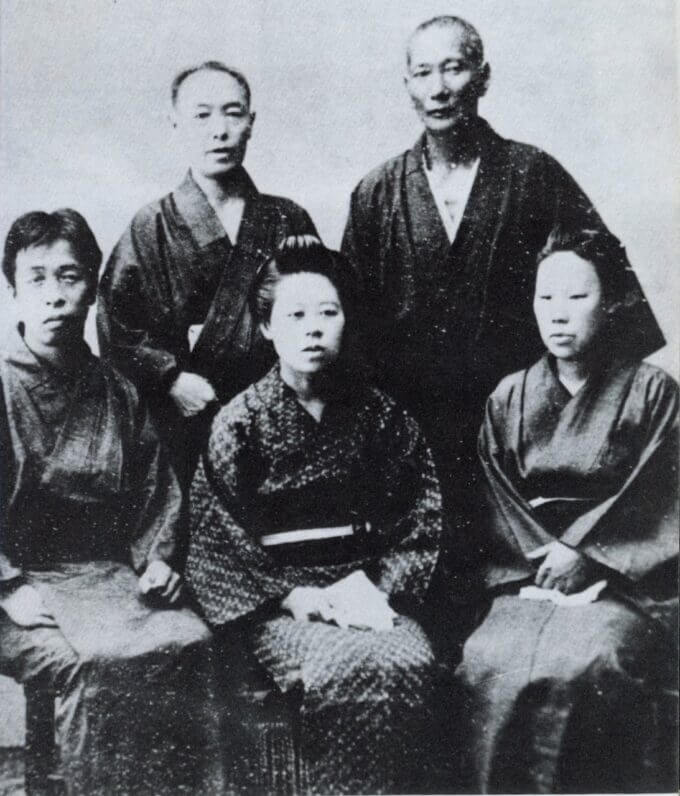 This is a true story of a Japanese female psychic who conducted a psychic experiment in court to extract "divine water" from thin air.
On December 12, 1900, an unprecedented psychic experiment was conducted at the Kobe District Court in Japan. Toshie Osanami, a female psychic extracted "divine water" from thin air that healed all diseases and was finally acquitted.
In this article, I would like to present the details of how Toshie was brought to trial and the amazing psychic experiments she performed in court.
Toshie Osanami: Japanese Female Psychic Who Conducted an Amazing Psychic Experiment in a Courthouse and Won an Acquittal
Massive Raid by Police
In the early afternoon of June 11, 1900, Toshie's brother Yukichi's house at 1-86 karahori-dori, Higashi-ku, Osaka, was suddenly surrounded by more than a dozen police officers. Chief Okada of Tamatsukuri Police Branch, accompanied by a sergeant and a group of policemen, arrived to conduct a large-scale search of the house.
At the time, Yukichi's house had a nameplate that read "Kannagara Daidou Kyoukai Honincho Osanami Shokyo Karigusho." This meant that it was the temporary residence of Toshie Osanami Toshie, the head minister of the church that propagates the great way of the kami from time immemorial of Japanese Shinto.
Then, hearing rumors that a "living goddess" resided in the house, many sick people came to visit Toshie, and the worship of the goddess by the people toward Toshie grew more intense with each passing day. So Tamatsukuri Police Branch, which has jurisdiction over the area, set out to find out what was really going on.
When Yukichi's wife, Shige, answered the front door in surprise, the sergeant showed her a warrant to search the house.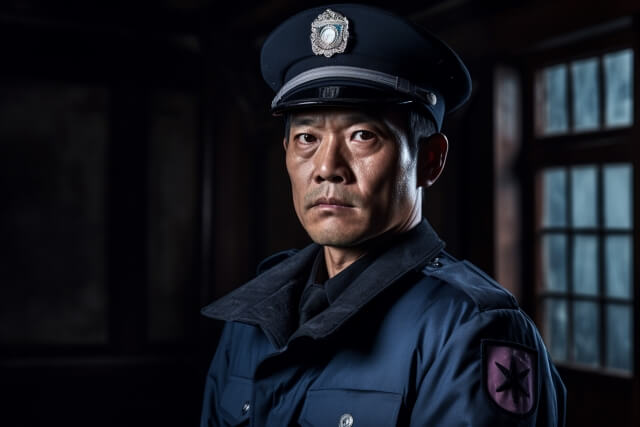 Then, a group of police officers rushed inside the house, ignoring her protests.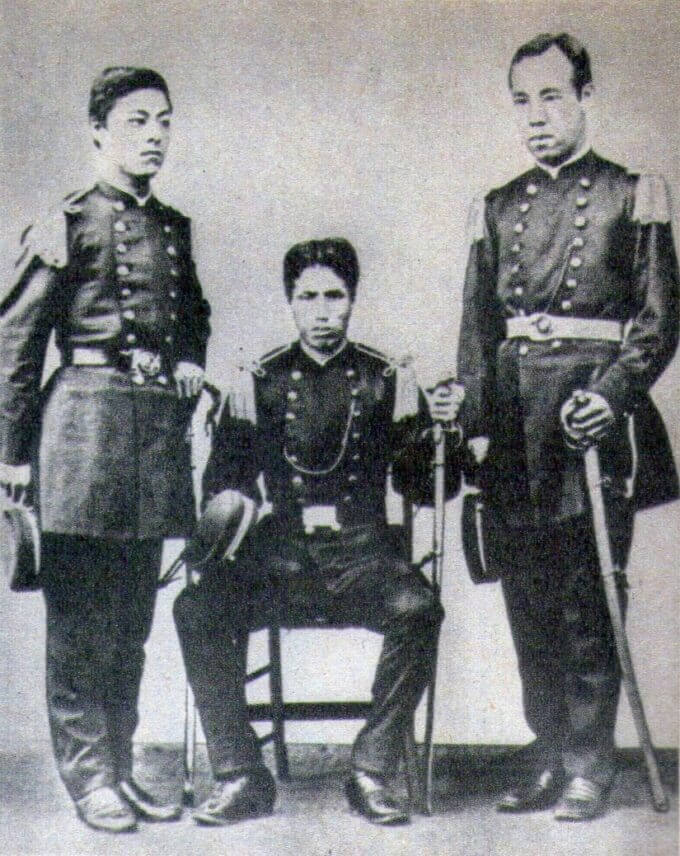 At this time, Yukichi was away from home on business, and Toshie was also out. The police conducted a massive raid, searching not only inside the house but also under the floor. The policemen asked the frightened Shige.
Are you hiding any kind of medicines?
After more than an hour of searching the house, which was not very large even for a two-story house, from corner to corner, the officers found nothing suspicious, let alone medicines, and left empty-handed.
Thus, the interrogation by Tamatsukuri Police Branch ended in vain, but when the officers visited Yukichi's house again that night, they were able to obtain detailed information from him, who had returned home. The following is based on an article on page 5 of the morning edition of the Tokyo Asahi Shimbun dated June 17, 1900.
According to Yukichi, Toshie's followers who wished to receive divine blessings were required to bathe, refrain from sexual intercourse, and abstain from all fish, meat, leeks, chives, garlic, and the like. Yukichi also said that a sick person should not reject his or her doctor, but should list the names of doctors whom he or she would like to see and ask for divine selection.
Under this arrangement, an average of 15 or 6 believers crowded into Yukichi's house every day, receiving divine water from Toshie and asking for divine blessings.
At the time, it was advertised that among Toshie's followers, there was an engineering bachelor who lived in the Uchi Honmachi area of Higashi-ku, Osaka City. However, when the police checked the list of the bachelor of engineering, they could not find the name of such a bachelor of engineering anywhere on the list. It was also advertised that a first-class military doctor living around Shinonome-cho, Higashi-ku, Osaka City, was also a Toshie follower and that his illness had been completely cured. However, when the police checked the military register, they could not find the name of such a first-class doctor anywhere in the military register.
Not only that but there were also advertisements about the amazing effects of the divine water, such as the blind person being able to see and a person who was paralyzed after a stroke recovering, reminiscent, as it were, of the miracles of Jesus Christ.
According to Yukichi, Toshie was surrounded by people who did not understand what was right and what was wrong, and who stubbornly believed in God's blessings, as well as by religious schemers who wanted to use deities for their own benefit. They were trying to use Toshie's paranormal abilities to make money.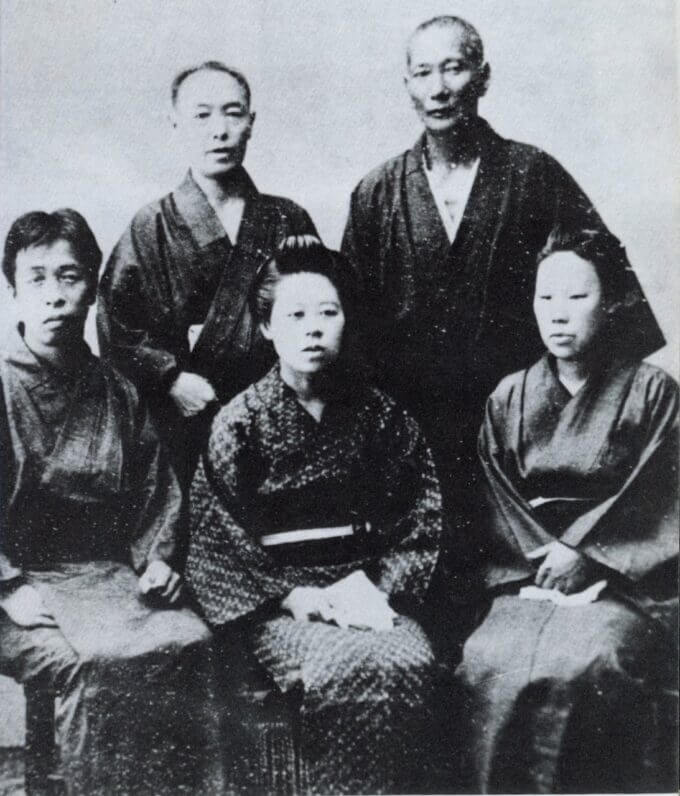 Divine Water Business
By the way, how many sales did Toshie's followers at that time make from this divine water business?
According to the above newspaper article, the believers were usually charged 30 sen per person as a hatsuho-ryo (Money paid as a gratuity to the deity) and 20 sen for divine water, which some of them drank and were cured of their illnesses.
One sen at that time in Japan was equivalent to about 200 yen (about US$1.40) in modern Japan. Since 30 sen at that time was 6,000 yen (about 42USD) today, and 20 sen at that time is 4,000 yen (about 28USD) today, each believer would have paid 50 sen, or 10,000 yen (about 70USD) per session.
According to the record of a follower named Kishimoto, who was taking care of Toshie at the time, "Goshinsui Osazuke Oboe (Record of the Number of Divine Waters Given)" (revised in 1901), an average of 100 or so divine waters were given out per month. From this, if they were making profits from as many as 100 believers per month, they would be making 1 million yen (about 7,000 USD) per month or 12 million yen (about 84,000 USD) per year.
Thus, it is rather natural that the Japanese police of the time could not ignore the fact that Toshie's followers were conducting such an exorbitant divine water business by attracting large numbers of sick people with false advertising, without a legitimate medical license.
Therefore, Chief Okada of Tamatsukuri Police Branch submitted the following report to the police department.
They claim that those who receive the blessings of this deity are easily cured of any illness … This is nothing more than an act of making an unfair profit by deceiving foolish men and women.
Analysis of Divine Water by the Police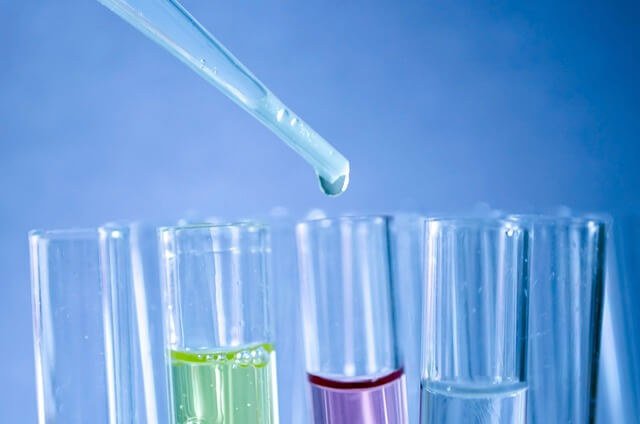 According to an article on page 5 of the morning edition of the Tokyo Asahi Shimbun dated June 19, 1900, the police analyzed the ingredients of the divine water and found that it was a mixture of water and medicine.
The police then sentenced Toshie to three days of detention on the charge of Ikeizai*1 (contravention) for giving various medicines mixed with water to sick people. Then, at Tamatsukuri Police Branch, Chief Okada himself interrogated Toshie.
After being released by the police, Toshie left Osaka with several followers, climbed Mt. Fuji and remained there until July 4.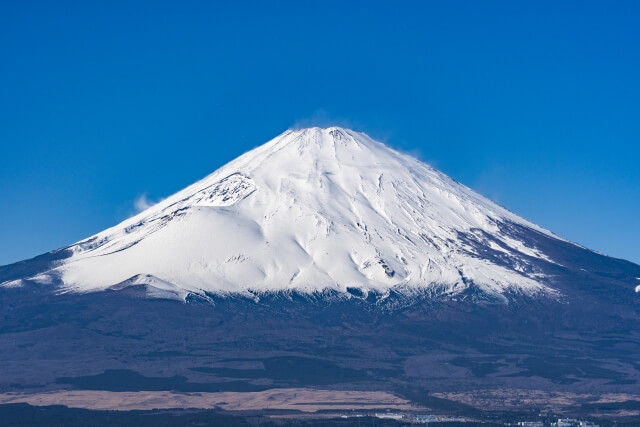 Subsequently, the prosecutor requested the Osaka District Court that Toshie should be detained for 10 days for asking sick people the names of their illnesses and giving them medicine, even though she was not an authorized doctor approved by an Osaka Prefectural Ordinance.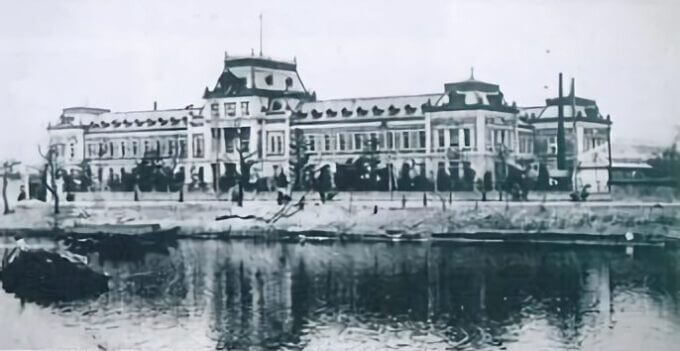 However, Toshie was not in Osaka due to a trip to Mt. Fuji, so the trial was held in absentia at the Osaka District Court on June 27. As a result, the presiding judge sentenced Toshie to 10 days of detention.
According to an article on page 5 of the morning edition of the Tokyo Asahi Shimbun dated July 8, 1900, one week passed after the court ordered Toshie to be detained for 10 days, but she still had not shown up, so the Osaka District Court prosecutor issued an arrest warrant for Toshie and ordered Tamatsukuri Police Branch to execute it.
At noon on July 5, officers from Tamatsukuri Police Branch visited Toshie's house to arrest her. However, Yukichi refused to hand Toshie over, claiming that he had not yet been served with the written judgment, and told the officers that he intended to file an opposition or appeal as soon as he was served.
Tamatsukuri Police Branch made an inquiry to the Osaka District Court, which was informed that the written judgment had been served on Yukichi's house that evening. Therefore, Tamatsukuri Police Branch decided that they should immediately arrest Toshie and sentence her to 10 days in detention, as Yukichi had not filed an opposition or an appeal.
Surprisingly, in such a tense situation where he could be arrested by the police at any moment, Toshie invited a newspaper reporter to conduct a psychic experiment on July 7, 1900. This psychic experiment was described in the previous article.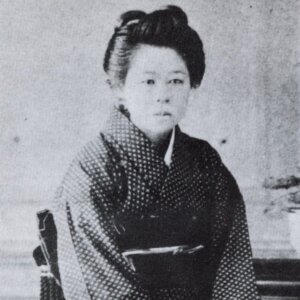 Two days later, on the morning of July 9, Toshie was summoned to the Osaka District Court for questioning by Prosecutor Yamada.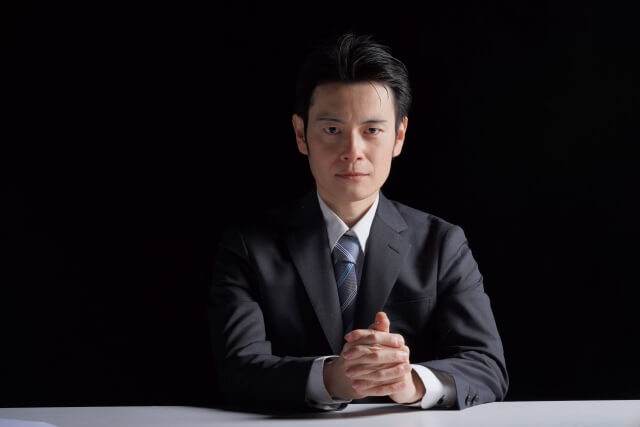 Then, at 11:00 a.m. on the 11th, the formal trial was scheduled to begin at the Osaka District Court. According to page 9 of the morning edition of the Osaka Asahi Shimbun dated July 12, 1900, Judge Yaoi ruled that Toshie's motion for opposition against the judgment in absentia in the Osaka District Court was dismissed with immediate effect. Toshie's attorneys then filed a further appeal.
Then, at 10:30 a.m. on August 6, an appeal hearing was held at the Osaka District Court against the detention order based on ikeizai (contravention). According to an article on page 9 of the morning edition of the Osaka Asahi Shimbun dated August 7, 1900, Toshie's voice was so low and her accent so thick that the judges could not understand what she said during the interrogation. Thereupon, the lawyer requested that Yukichi be present as Toshie's attendant, but this request was not adopted. Eventually, Judge Fushimi ruled that the appeal should be dismissed on the grounds that the opposition was unlawful. Toshie's attorneys decided to appeal against the ruling. However, the appeal to the Osaka Appellate Court*2 was also thrown out, but the Osaka Appellate Court sentenced the case to be reexamined in the Kobe District Court.
At this Kobe District Court, an unprecedented psychic experiment was conducted.
Toshie's Psychic Experiment at the Kobe District Court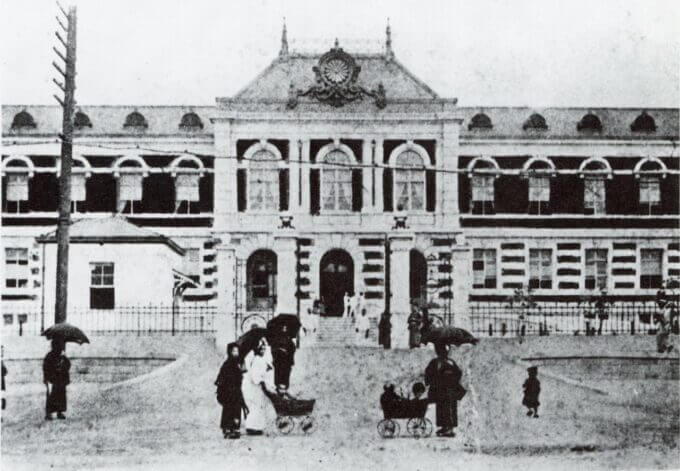 Below is the detailed story of Toshie's amazing psychic experiments at the Kobe District Court, adapted by Tetsuro Tanba from Yukichi's recollections of the time.
On December 12, 1900, the day of the hearing, the Kobe District Court was packed with a large number of people, and the seats were full. Reporters from the Osaka Mainichi Shimbun, Osaka Asahi Shimbun, and other newspapers were also stationed in the front row, waiting for the court to open. First, Prosecutor Takagi Kurakichi took his seat, then Toshie appeared, accompanied by a team of attorneys that included Koutaro Yokoyama, Kantaro Katagiri, and Naojiro Sato.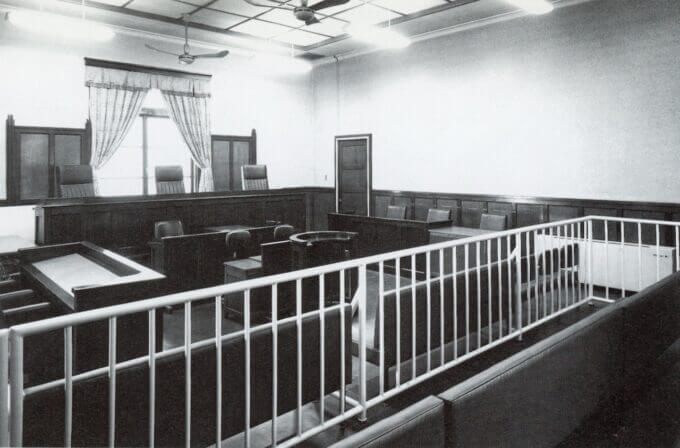 What caught everyone's attention was that Toshie was dressed in a white kimono, as if she were pleading her innocence.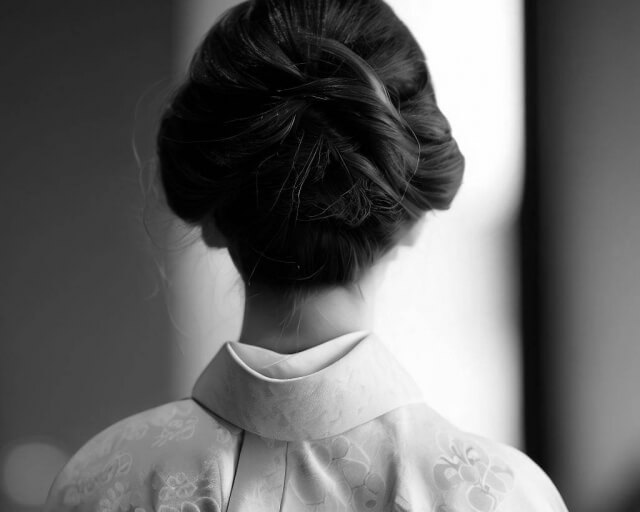 Then came the two associate judges, Bunichiro Noda and Ichitaro Kishimoto, and finally the presiding judge, Iwaei Nakano, appeared and the court opened.
First, the scribe called out the name of the accused, Toshie, and she took the witness stand. Then she was questioned about her original registration, address, name, and age. During the questioning at the trial, she was always looking down. However, perhaps it was because of what she was wearing, but her face looked whiter and more translucent than usual, which was impressive.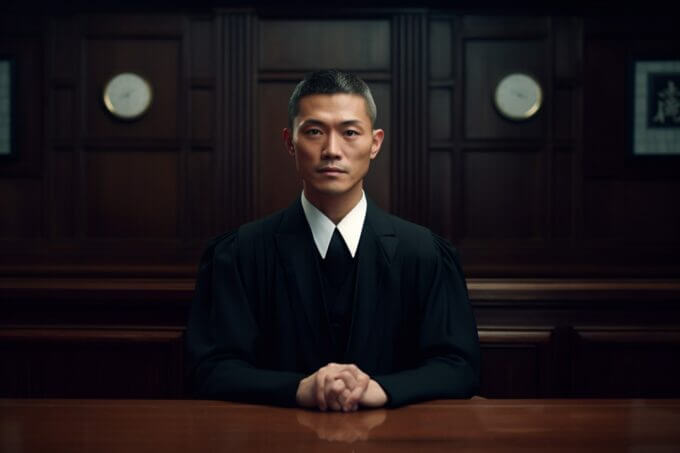 Defendant, please state your place of legal domicile.
Otsu 86, Yokamachi, Nishitagawa Village, Ooaza, Yamagata Prefecture.
Toshie turned her head straight toward the presiding judge and answered without hesitation in a clear tone of voice.
How old are you?
Thirty-seven this year.
After the questioning was complete, Judge Nakano paused for a moment, looked Toshie in the face, and then suddenly asked,
Can the defendant produce 'divine water' in this courtroom as well?
The judge's unexpected words caused a momentary stir among the prosecutors, attorneys, and courtroom observers. Toshie, however, did not seem the least bit flustered but even had a faint smile on her face as she replied.
That's easy for me to do. But, if you could lend me a place to hide for a moment…
There was a stir again in the courtroom. The presiding judge banged his gavel*3 a few times for quiet.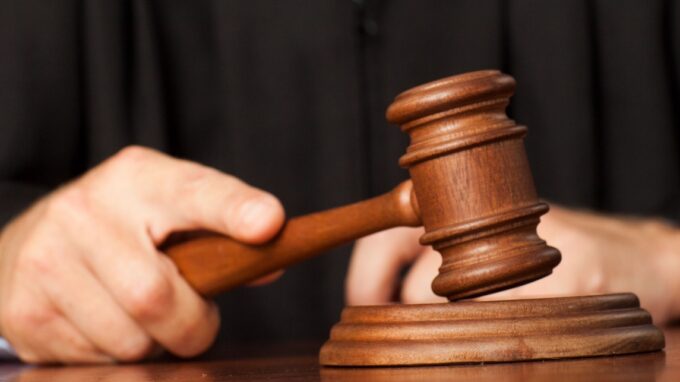 The presiding judge then consulted with the associate judges for a moment and then addressed the prosecution and defense.
I would like Toshie to conduct an "experiment" at a suitable location.
Are there any objections on both sides to this proposal?
Both the prosecutors and the attorneys agreed to allow Toshie to conduct a psychic experiment, as it is indeed mysterious in the world that divine water is bestowed by a deity. So, Judge Nakano pronounced.
Then, this trial is adjourned for the time being in order to conduct the experiment.
The judges then discussed the appropriate location for the psychic experiment and decided to conduct the experiment in an attorney's room on the first floor of the courthouse.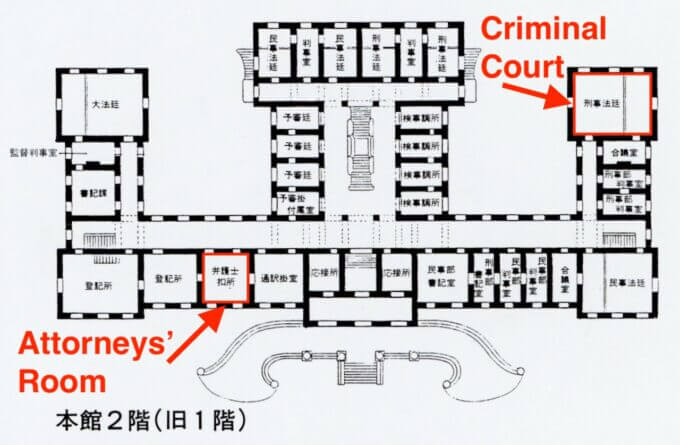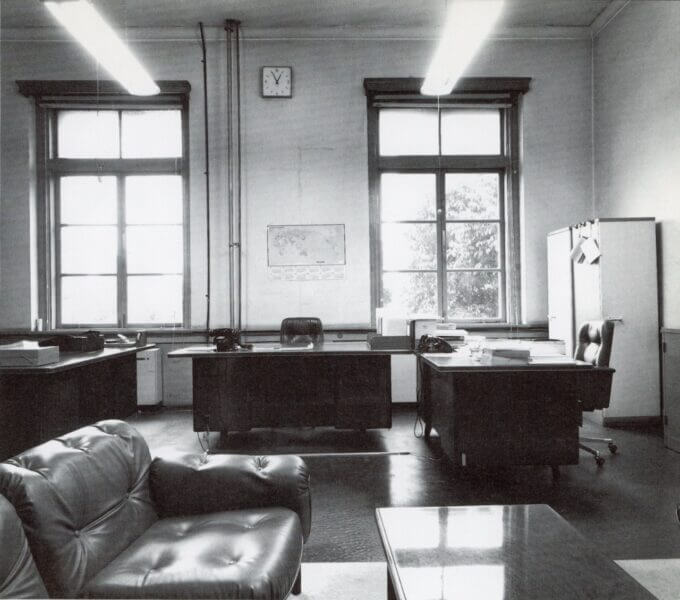 At the time, the Kobe District Court was under construction and a telephone booth*4 had just been built in the attorney's room, and the telephone had not even been installed yet. This telephone booth was provided as a place for Toshie to hide herself, and she was to conduct a psychic experiment in it.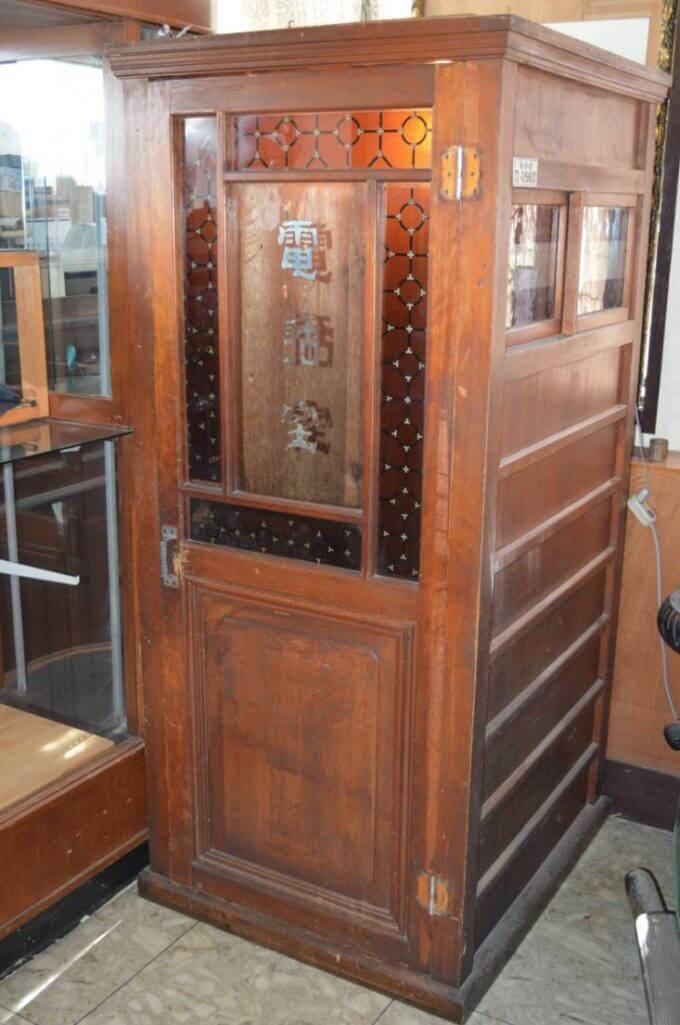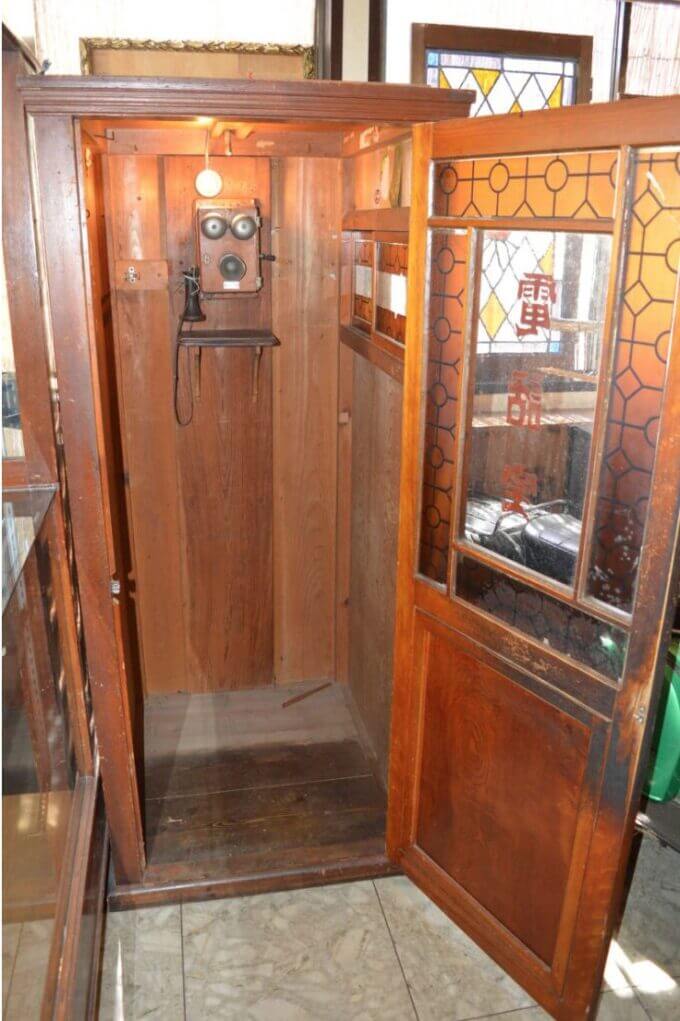 The attorney's room, which was not very large, was quickly filled with judges, prosecutors, attorneys, court officials, and bystanders who had gathered to observe the psychic experiment.
First, prior to the experiment, the telephone booth was cleaned so that not even a speck of dust remained in the booth. Toshie's clothing was then examined rigorously. Toshie was stripped naked in a separate room, and each item of clothing was examined.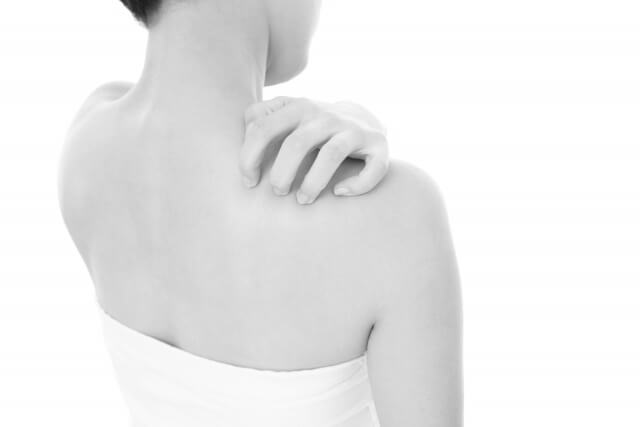 Toshie took the empty bottle from the presiding judge with both arms and held it reverently above her head. She then made a slight bowing motion to the people watching the experiment, before quietly walking into the phone booth.
Shortly after she entered the phone booth, a mysterious sound came faintly from inside the phone booth. There was a hint that Toshie was chanting some kind of sutra, but that was not all. There was also a faint tone, similar to that of a flute, though it was not clear due to the door separating them. The faint tone gradually became louder and louder. According to Yukichi, this tone is an ethereal tone that "indicates that the deity has descended to Toshie.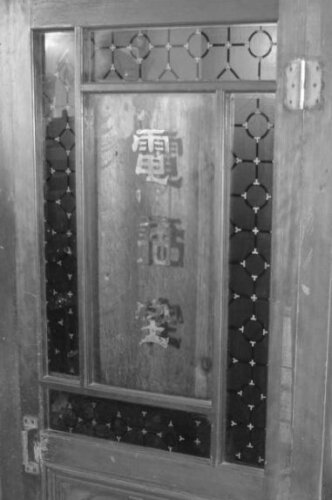 Soon after, there was a steady banging on the door from inside the phone booth. It was a signal that had been pre-arranged between the presiding judges and Toshie, asking them to open the door when the experiment was over.
Yukichi looked at the pocket watch in his hand and saw that the hands on the watch indicated that two minutes had just passed since Toshie entered the telephone booth.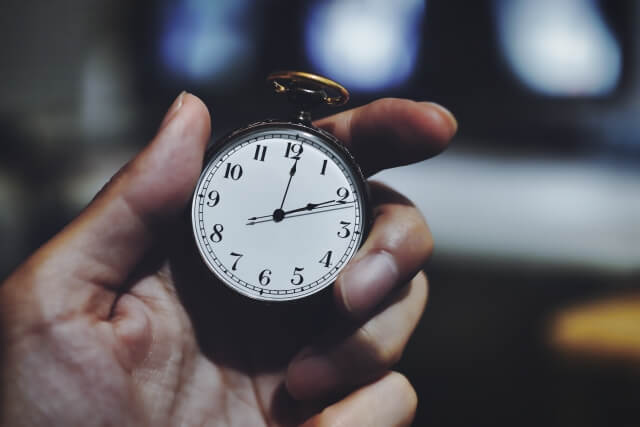 Soon the door was opened and Toshie came out, holding a bottle filled with brownish water in one hand.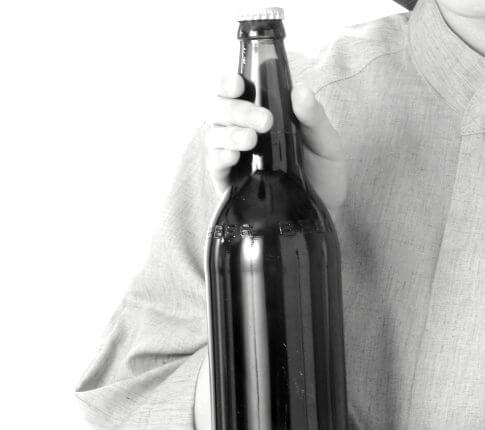 Everyone who saw the bottle was in awe. The bottle filled with divine water was passed one after another from the hands of presiding judge Nakano to the associate judges, prosecutors, and defense attorneys, who examined it in detail. The bottle remained tightly sealed as it had been before, and there was nothing suspicious about it.
To be sure, the inside of the phone booth and Toshie's clothes were also examined again, but there was nothing to arouse suspicion. About half an hour after the experiment, the trial court resumed. A bottle filled with Toshie's divine water, or brown liquid, was placed on the judge's desk as evidence. Toshie took the witness stand again, and presiding judge Nakano asked the following question.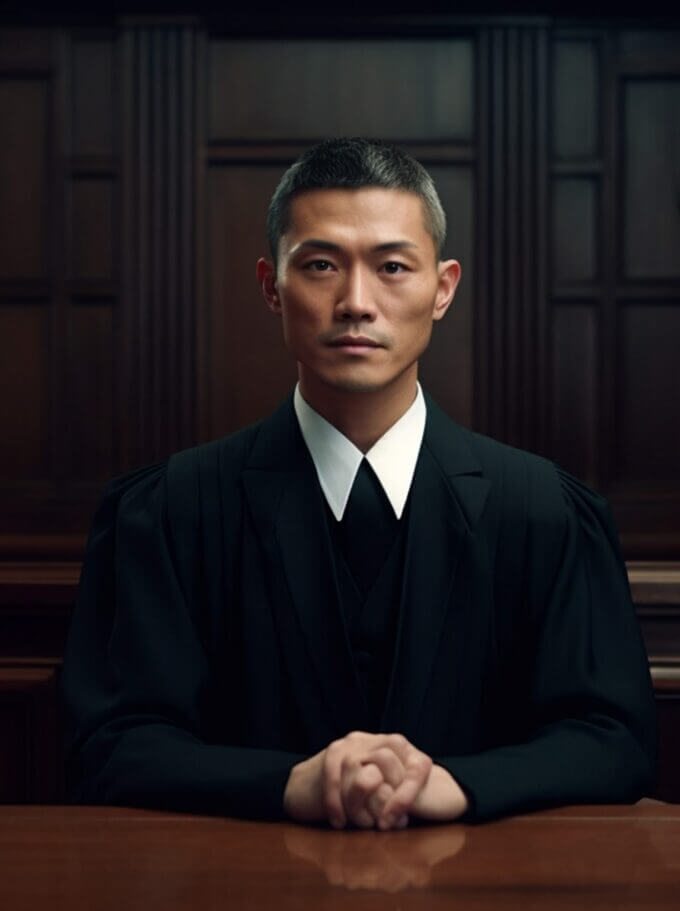 What diseases does this water cure?
It cures all diseases. I did not ask my deity to give me medicine for any particular disease.
May I have this medicine?
Yes, sir.
After the questioning, Presiding Judge Nakano immediately ruled that the defendant was not guilty, and the case was settled. Many people who were present in the courtroom at this time certainly witnessed Toshie's psychic experiment in which she filled an empty bottle with divine water.
Osaka Mainichi Shimbun Reports
On page 7 of the morning edition of the "Osaka Mainichi Shimbun" dated December 14, 1900, an article titled "Examination of Living Goddess" stated the following.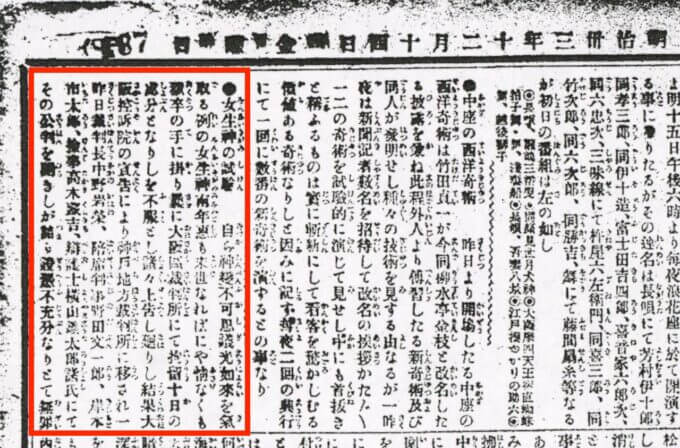 Toshie Osanami, the living goddess who fancies herself Shinpen Fukashigi Kounyorai*5, has also fallen into the hands of a prison guard, perhaps because it is the period of the last and decadent Dharma. She also appealed to the Osaka Ward Court, which sentenced her to 10 days of detention, and after various appeals, she was transferred to the Kobe District Court by a ruling of the Osaka Appellate Court. The day before yesterday, the trial was held with Judge Iwauei Nakano, Associate Judges Bunichiro Noda and Ichitaro Kishimoto, Prosecutor Kurakichi Takagi, and Attorney Kotaro Yokoyama, and as a result, she was acquitted due to insufficient evidence.
Then, the attorneys who were present in the attorney's room suggested to the living goddess that if divine water, which was said to have been given by a deity, was such a mysterious matter, it would be a good idea to conduct a test. She readily agreed to the request, saying that was exactly what she wanted.
The telephone booth in the attorney's room was used as a temporary examination room, and Toshie's clothes and body were thoroughly inspected. The telephone booth was also cleaned so that not even a speck of dust remained. They then locked the living goddess in it with a small bottle in her hand. Then, after only five minutes, the door was tapped on, and she came out. As they looked, she emerged calmly with a small bottle that, mysteriously, was filled with a dark yellowish liquid that looked like niku-keisui*6.
According to the living goddess, not just one bottle, but dozens of bottles, if she placed them on the sambo (offering stand) and said a single prayer, divine water corresponding to the illness of the sick person who is the owner of the bottle will be bestowed from heaven to cure the illness.
Leaving aside for the moment the question of whether this is true or not, it is still mysterious that Toshie's body and the inside of the telephone booth were examined in front of their eyes, and yet in less than five minutes she appeared with a bottle filled with divine water.
Some believed that she may have vomited liquid from her mouth. However, the color of the liquid was slightly brownish, but it was a clear liquid, so it was hard to accept that she had vomited it out of her mouth. Since there is no such thing as a gift from a deity, it is better to investigate further, and it is said that those who are fond of strange things among attorneys are not at all negligent in their preparations to further investigate the truth of the matter at any given time.
Report of Drinking Toshie's Divine Water
Unfortunately, there is no record of any scientific analysis of the divine water Toshie produced in this psychic experiment. However, Dr. Nishi stated in his book published in October 1959 that while he was a student at the University of Tokyo School of Medicine in 1925, he heard an interesting story about this Toshie's psychic experiments in a lecture given by Professor Koichi Miyake of the Department of Psychiatry.
According to Nishi, Toshie filled with divine water an empty two-cup bottle of Masamune (Japanese sake), which had been sealed tightly. Then, when the seal was broken and everyone tasted the divine water, they found that it tasted like fine sake, although it seemed somewhat lighter than ordinary sake.
Unprecedented Trial in the History of the World's Courts
Above are the details of the amazing psychic experiment by a female psychic, Toshie Osanami, at the Kobe District Court. In any case, there is no doubt that this trial was truly unprecedented in the history of trials in the world, in the sense that a female psychic was finally acquitted after conducting psychic experiments in court at the request of the presiding judge.
Published on July 29, 2023
Written by OTAKUPAPA
References
1. Tokyo Asahi Shimbun, June 17, 19, and July 8, 1900, page 5.
2. Osaka Asahi Shimbun, July 12 and August 7, 1900, page 9.
3. Wasaburo Asano, August 15, 1930, "Furoku Osanami Toshie Monogatari (Appendix: The Story of Toshie Osanami)", Shinrei Bunko (Psychic Library), "Dai Sanpen Zoku Yuukon Mondou (Part 3: Sequel to Ghost Question and Answer)", Shinrei Kagaku Kenkyukai (Psychic Science Society).
4. Wasaburo Asano, 1938, "Shinreigaku yori Nihon Shindo wo Mamoru (Viewing Japanese Shinto from Spiritual Science)", Shinrei Kagaku Kenkyukai (Psychic Science Society).
5. Nihon Shinjin Den (biographies – Portraits of the spiritual giants who moved Japan" (Esoterica Selection), Author: Tatsuhiko Fujii, Publisher: Gakushu Kenkyusha, May 2001.
6. Tetsuro Tanba, March 1, 1983, Reijin no Shomei — Zokuzoku Tanba Tetsuro no Shisha no Sho (The Proof of the Spiritual Person — Sequel to Tetsuro Tanba's Book of the Dead), Chuou Art Publishing Company.
7. Tatsuhiko Fuji, May 2001, Nihon Shinjin Den – Nihon wo Ugokashita Reiteki Kyojin Tachi no Shouzou (Biographies of Japanese Spiritual Persons – Portraits of the Spiritual Giants Who Moved Japan) – " (Esoterica Selection), Publisher: Gakken.
8. Kobe Bar Association (Editor), October 1988, Kobe District Court – Photo Book, Kobe Bar Association.
9. Osaka Mainichi Shimbun, December 14, 1900, page 7.
10. Nishi Taseki, M.D., October 1959, "Kitsune. Tanuki. Reikon (Fox. Raccoon. The Spirit)", Daizesto Bunko