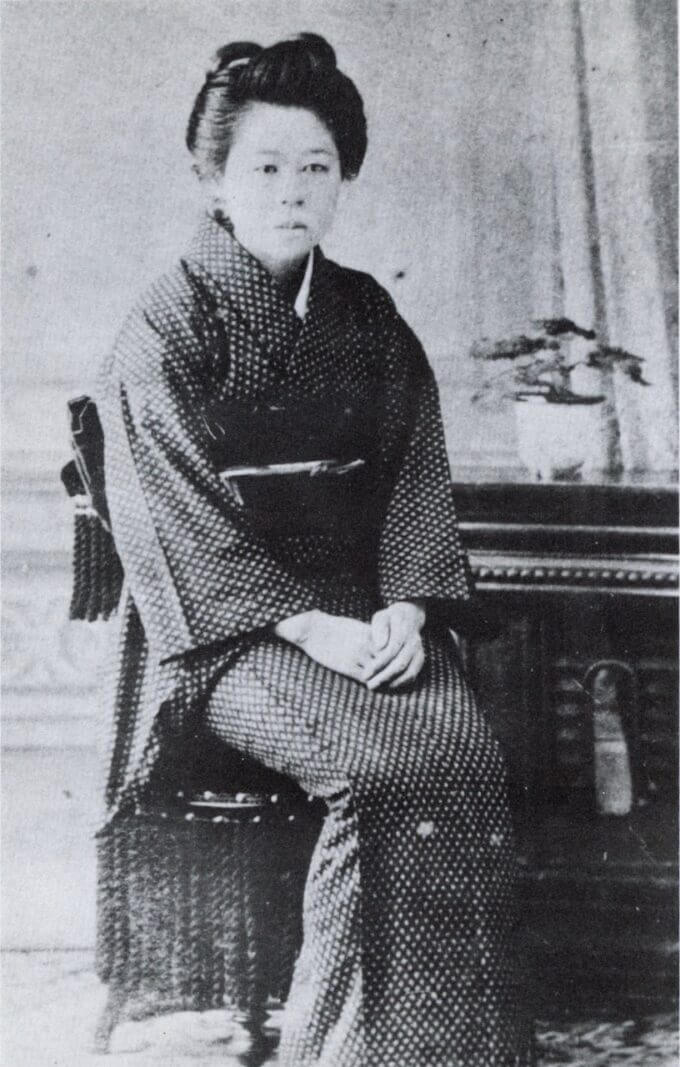 This is a true story of a Japanese female psychic who conducted a psychic experiment in court to extract "divine water," which cures all illnesses, from thin air.
On December 12, 1900, an unprecedented psychic experiment was conducted at the Kobe District Court.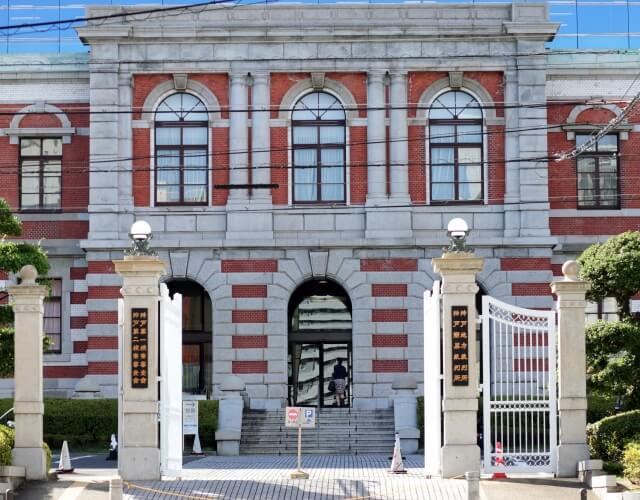 In the courtroom, under the presence of Judge Iwae Nakano, Associate Judge Kishimoto, Prosecutor Takagi, and attorney Kotaro Yokoyama, the defendant, Toshie Osanami (37 years old at the time), performed an experiment to extract "divine water" from thin air, which was said to cure all illnesses.
In this article, I would like to present the background leading up to Toshie Osanami's psychic experiment to extract "divine water" from thin air at the courthouse.
Toshie Osanami: A Japanese Female Psychic Who Extracts "Divine Water" from Thin Air to Cure All Illnesses
Toshie Cured Numerous Sick People with Divine Water
Toshie Osanami had come to Osaka from her native Yamagata in the spring of 1900 by her brother Yukichi to have her mysterious psychic abilities verified at Kyoto University.
Toshie had numerous mysterious stories to tell. For example,
・She was said to have eaten and drank nothing for 14 years.
・She had no bowel movements or urination at all and had not menstruated since birth.
・When she prayed to the deity for a few minutes, dozens of empty bottles at a time were filled with "divine water" that cured all diseases.
・She was in her late thirties, yet she still retained the youthful appearance of a 20-year-old.
So Yukichi, eager to have Toshie's mysterious body become the subject of scientific research, made a plan to invite her to his home in Osaka and then bring her to Kyoto University.
However, even before Toshie arrived in Osaka, rumors spread among the people that a mysterious divine woman was coming to Osaka. As a result, during her stay in Osaka, rumors spread that she was a divine woman who could cure any illness with her miraculous powers, and people began to rush to her to ask her to heal them.
People who asked Toshie to cure their illnesses brought empty medicine bottles, beer bottles, and other bottles. They would ask Toshie to fill those empty bottles with divine water. Dozens of these bottles were placed on small offering stands and offered in front of the Shinto altar.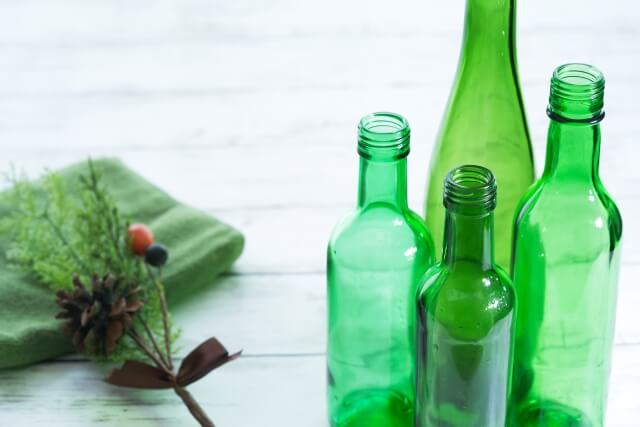 All of these empty bottles were corked and each one had the client's name written on it.
Toshie then knelt down in a humble position in front of the altar and prayed for about 10 minutes, and then, mysteriously, dozens of sealed, empty bottles were simultaneously filled to the brim with divine water.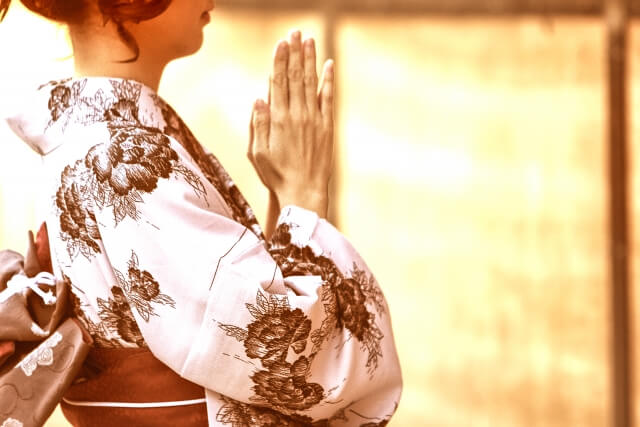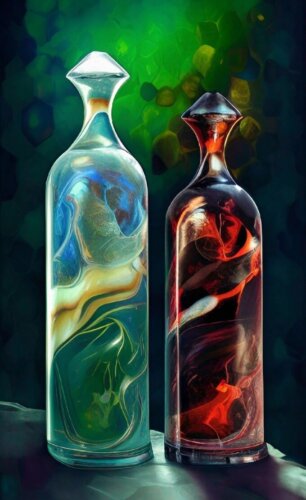 Moreover, the divine water filled in each bottle was a different color, such as red, blue, yellow, or birch, depending on the type of illness to be treated. Also, even when the 40 or so empty bottles were arranged on the offering stands, they were quickly filled with divine water.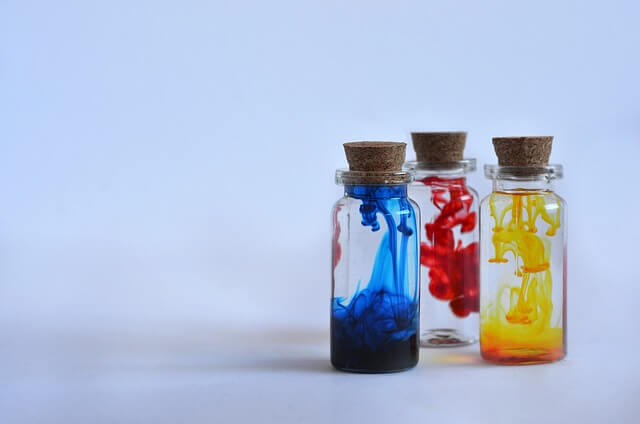 Surprisingly, the effects of those divine waters were remarkable, and people with any illnesses were healed rapidly after drinking them.
However, the bottles of those who were appraised by the deity*1 as incurable were not filled with divine water. Nor was the bottle of a person who was not ill, but had come to Toshie with the intention of testing her psychic abilities, ever filled with divine water.
Reading the above story, you might think it's a lie to extract the divine water that cures any illnesses from thin air and fill dozens of empty bottles at the same time. However, Toshie's mysterious psychic abilities were reported in detail in the Japanese newspapers of the time.
Toshie's Psychic Experiment as Reported by the Osaka Asahi Shimbun
When Toshie's psychic abilities became a hot topic in Osaka, Kōkōkakyaku Kakuda*2 and one other newspaper reporter were dispatched from the Osaka Asahi Shimbun to witness Toshie's psychic experiment.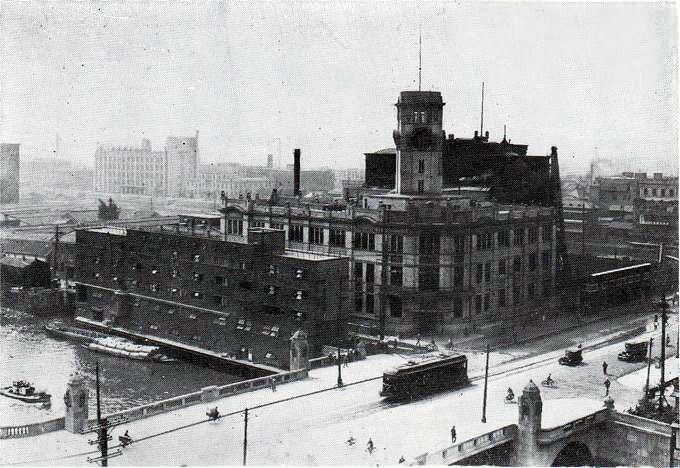 In the Osaka Asahi Shimbun dated July 9, 1900, page 9, an article titled "The Truth of the Living Goddess" reported Toshie's psychic experiment as follows.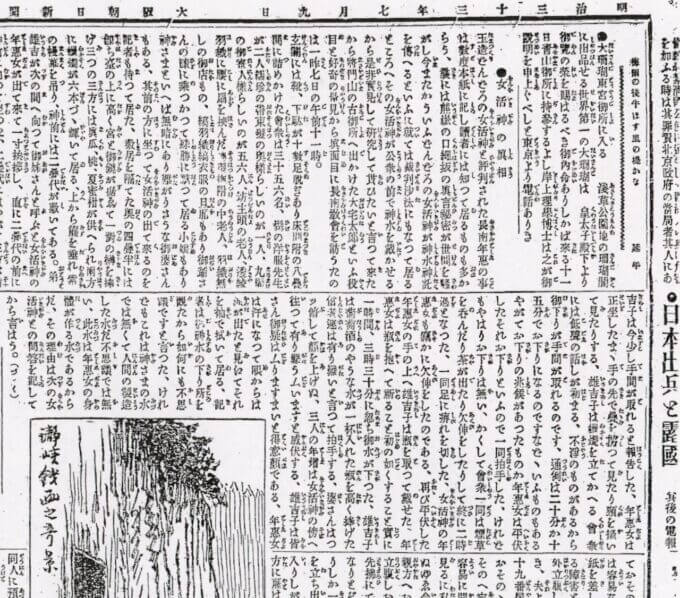 The Truth of the Living Goddess

Toshie Osanami, who was reputed to be the living goddess of Tamatsukuri Dondoro*3, has been introduced several times in this newspaper, so many of our readers may be familiar with her.

In the past, the Shingon esoteric Buddhism of Yugaku*4 of Kuchinawazaka caused a stir, and now there is another court case involving a living goddess of Dondoro who purports to give divine water and deliver oracles. The living goddess asked us to observe and study her as she was about to present the divine water in front of the public.
So, it was at 11:00 a.m. on July 7 that we visited the Osanami Church*5 to fulfill the role of Taro Oyake*6 who had gone to the old palace on Masakado Mountain, and out of curiosity.
According to the newspaper reporters, there were more than a dozen pairs of shoes and clogs taken off at the entrance.*8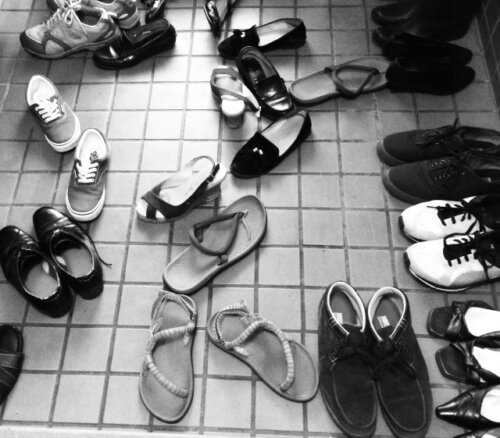 When the newspaper reporters went upstairs, fifteen or sixteen people were gathered in an eight-mat room (about 142 square feet) with an alcove.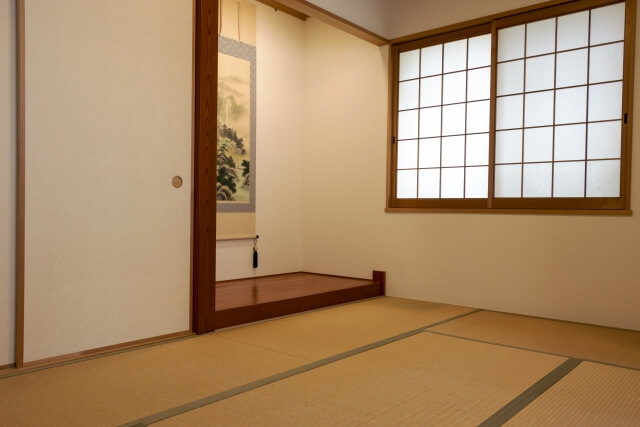 Among these people were two teacher-like people with beards and European-style clothing. There was also one lady with bunched hair wearing a kimono with satin with raised patterns sash tied around it, and five or six young wife-like women with round topknots. There was also an elderly man with a shaved head and a middle-aged man with stroked hair wearing a thin, plain silk haori*9 that seemed to show through and a fan at his waist. There was also a man who looked like a merchant servant without a haori and a husband in a striped haori. There was also a little girl who sat on her grandfather's lap and remained auspiciously silent. There was also an old woman who seemed to be gratuitously grateful at the mere mention of the word god or deity.
The newspaper reporters decided to sit in front of these people and wait for the living goddess to come out. There was a small room of 4.5 tatami mats (about 80 square feet) across the threshold, in front of the room where the people were. In the small room, a miniature Shinto altar in the shape of an actual Shinto shrine was installed on a pedestal, with a round mirror in front of the altar and a pair of sakaki leaves on either side of the altar. In addition, three offering stands were placed in front of the altar, each with offerings of makwah, peaches, and summer oranges.
And six candles were shining on the south side of the altar.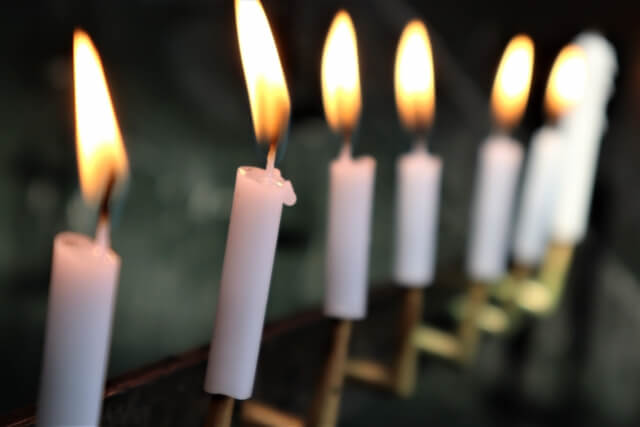 In addition, a curtain was hung from above, a purple drapery was hung, and a platform that is the height of two tatami mats and an area of about 2.7 x 2.7 square feet was laid out in front of the altar.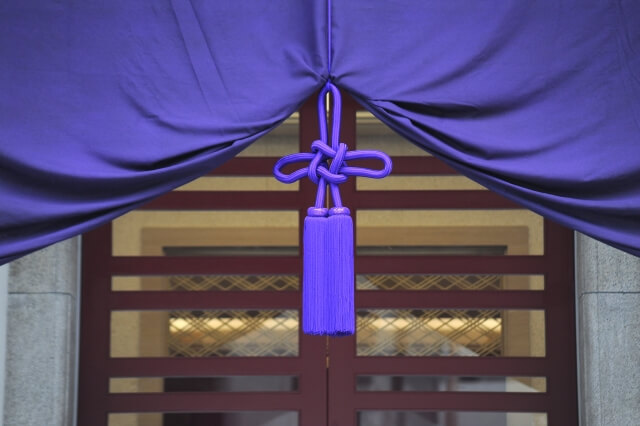 A short time later, Yukichi called his sister in the next room. And Toshie, the living goddess, came out to give a brief greeting to those gathered. She then sat in seiza*10 on the tatami*11 mat in front of the platform facing the altar. The offering stands were soon set up on the platform, the paper was laid on those stands, and new medicine bottles with measuring lines were placed on top of the paper. These medicine bottles are corked with wooden stoppers, which will be filled with divine water.
When all the people applauded and prostrated themselves, Toshie also applauded with her hands held low and prostrated herself.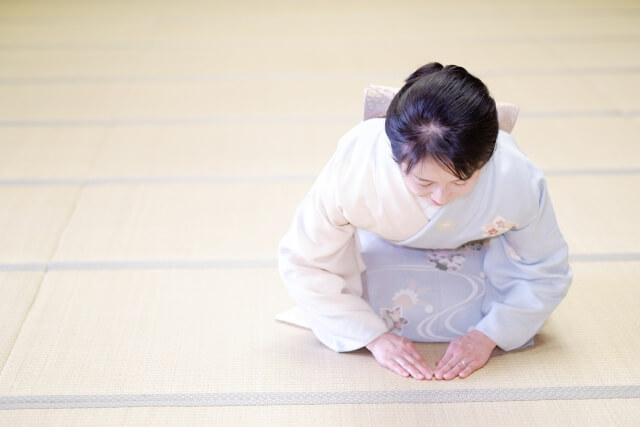 This living goddess was a very modern-looking living goddess. Toshie wore a thread-woven kimono and a reversible women's sash, the front and back fabrics of which were satin with raised patterns and satin, tied in a Taiko knot high on the waist. The fabric for the shoiage*12 was thought to be crepe with a light-colored pattern. Toshie was sitting in seiza with her feet in clean white tabi socks. Her hair was tied in an Icho-gaeshi*13 and she wore a hair ornament of red beads, probably coral.
Well, it was 11:30 when all the people applauded and prostrated themselves, and after that, the people waited quietly for 30 minutes, until 12:00. Nevertheless, the empty bottles were never filled with divine water. Then, after it was found that mold had grown on the offering stands, the offering stands were removed from the platform, and the empty bottles were placed directly on the paper.
Toshie seemed to be mumbling some prayers, but the empty bottle was still not filled with divine water, and it was now 12:20 p.m. At this point, the newspaper reporter heard a sound, which he thought was the sound of raindrops. He also heard the sound of a wind harp outside, and he wondered if there was a schoolteacher's house in the neighborhood where they played the wind harp.
Eventually, the people who had been waiting seemed to grow somewhat weary. Some were smoking cigarettes, some were yawning behind the fan in their hands, and some were looking at the newspaper in the alcove. The newspaper reporter was playing with a cute little boy, only two years old, who was being held in the arms of the woman sitting next to him.
Toshie raised her head and said that the divine water had not yet come down. Hearing her words, people breathed a sigh of relief and looked at Toshie. Toshie called her brother Yukichi to her side in a hand gesture and whispered something to him. Yukichi reported to the waiting people that it would take some time.
Perhaps out of boredom, Toshie plucked the surface of a tatami mat with her fingertips while sitting in seiza on the tatami mat. She also occasionally scratched her neck. Meanwhile, Yukichi replaced the candles. Then, a whispered conversation began among the people. Some people said,
Something impure is in this room, which is why it takes so much time for the divine water to come down. Normally, the divine water would come down in 20 or 15 minutes.
Then, perhaps sensing the signs of the divine water descending, Toshie suddenly prostrated herself. Then she said,
The divine water is coming down.
At her words, everyone applauded. Nevertheless, the empty bottles were still not filled with divine water. Thus, the people were so bored that some smoked cigarettes and some yawned. Tea was also served to the people.
Then it was past two o'clock. Perhaps because he had been sitting on his knees for so long, the newspaper reporter began to feel numbness in his legs. When he looked at Toshie, the living goddess, she, too, was yawning secretly.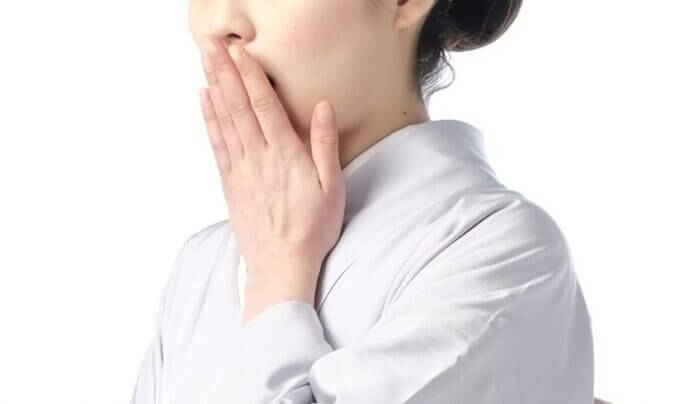 A few moments later, Toshie prostrated herself again. Then, Yukichi took one of the empty bottles and placed it in Toshie's palm. Toshie held the empty bottle and prayed for an hour. Then, at 3:30, divine water immediately filled the empty bottle!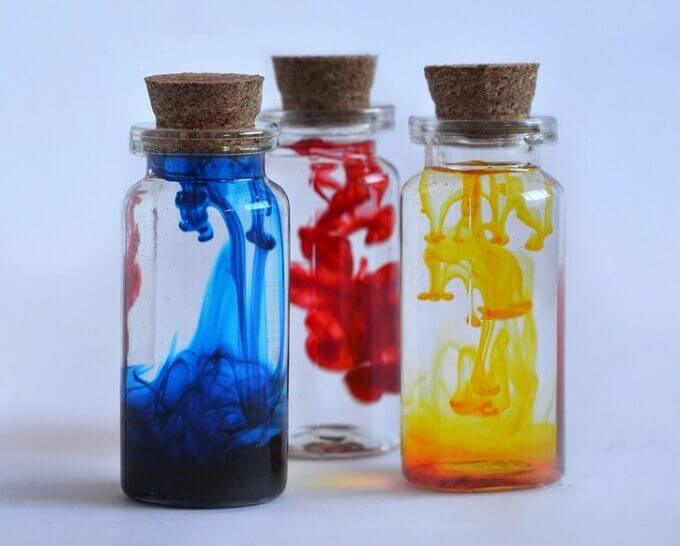 Yukichi held high the bottle filled with divine water that looked like grape wine. The people applauded, saying,
Thank God!
The old woman, who looked deeply religious, was so moved by the miracle that she remained prostrate and did not look up. The three elderly women went to the side of the living goddess, said thank you and admired Toshie.
Yukichi was proud to say,
There is no longer any doubt in your mind that the divine water did indeed miraculously come down!
Toshie was drenched in sweat and was wiping her eyes with her sleeve as if tears had come out of her eyes.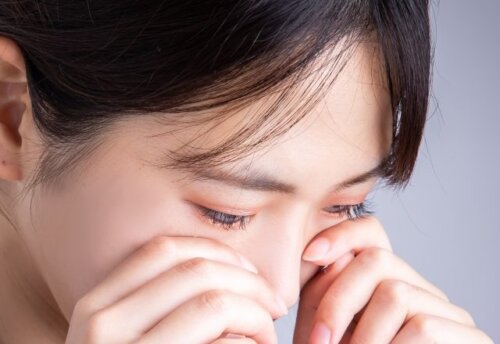 The above is a report by a newspaper reporter about Toshie's psychic experiment of filling an empty bottle with divine water.
Newspaper Reporter's Deduction on Toshie's Psychic Experiment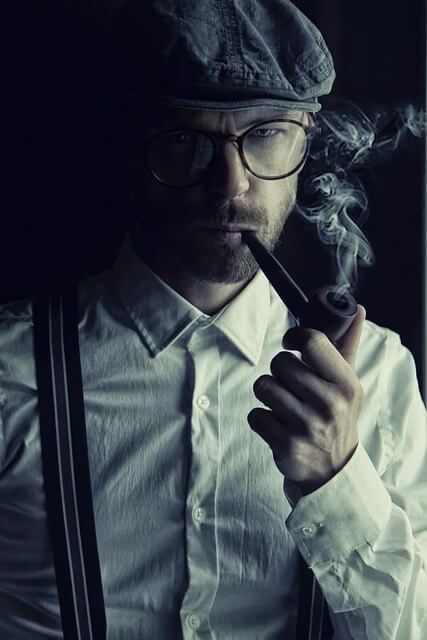 After reading the above report, do you think Toshie's psychic ability is real? Or do you think it is some kind of trick?
By the way, the newspaper reporter who wrote the report told Toshie and Yukichi how strange it was after seeing the psychic experiment of divine water filling an empty bottle. However, he thought it was not mysterious at all, because the water that filled the bottles was not water that had come down from a deity, but in fact, was water produced by a person. He was convinced that this divine water must have been produced by Toshie.
The newspaper reporter deduced the truth behind Toshie's miracle of filling empty bottles with divine water as follows.
First of all, what the believers appreciate most and find most mysterious is the phenomenon of divine water being filled into empty bottles. Once we know how the divine water fills the empty bottles, the other points, whether false or true, are merely trivial. Believing that the divine water came down from a deity, this leads them to assume that both the oracle and Toshie's being a living goddess are true.

So where does the divine water come from?

First, after the empty bottles on the offering stands were taken down from the stands, Toshie took the bottle handed to her by Yukichi and held it close to her chest.

Second, Toshie sat about six feet away from the people and did not allow others to sit within a foot or so of the threshold between the room where the people were and the small room where the empty bottles were placed.

Third, people were not allowed to enter the adjacent living room (where Toshie's seat was visible) because it was purified.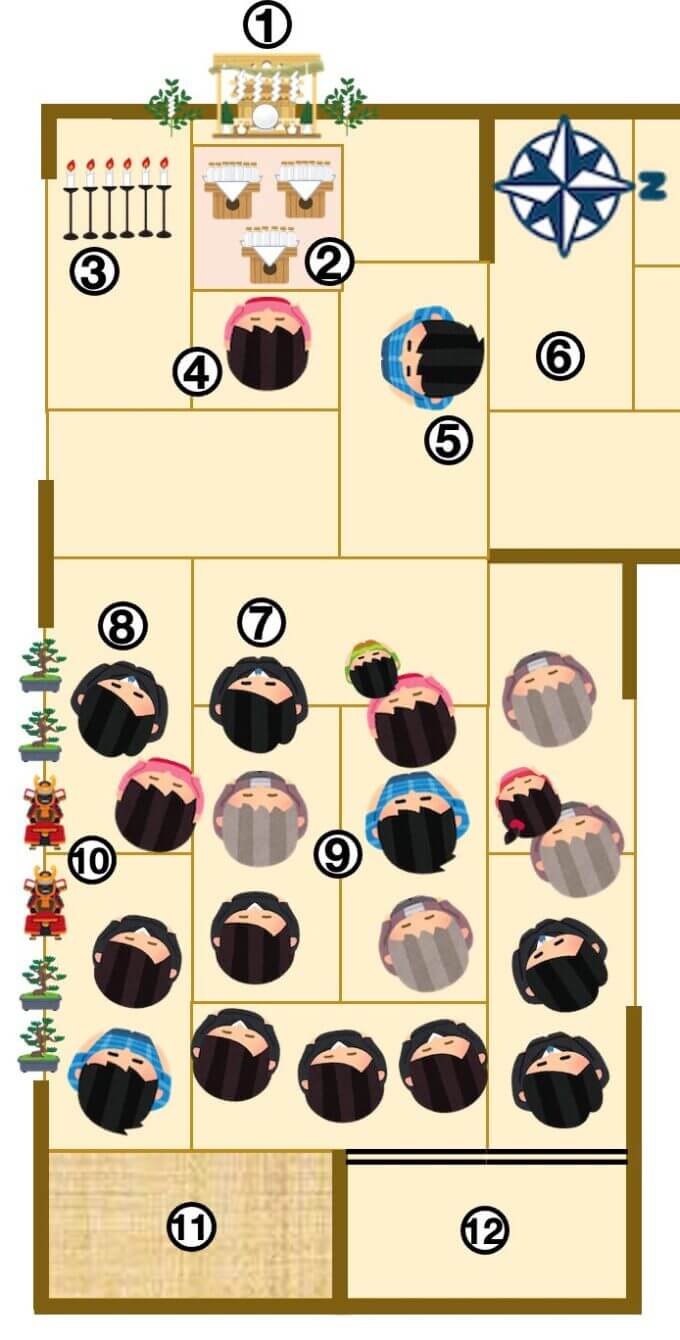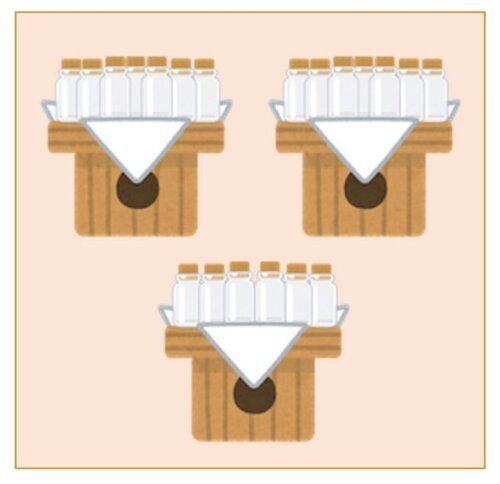 Fourth, usually, the divine water was coming down to Toshie in the room across the sliding doors from the room where the people were, and it took about 20 minutes for the divine water to come down. However, in this public experiment, it took 3.5 hours for the divine water to come down because there was no sliding door separating people from Toshie and people could see Toshie.

Fifth, when the newspaper reporter touched the bottle containing the divine water, it felt warm. One possible excuse for this could be that Toshie held the bottle for so long that the heat from her hand warmed it, but if the divine water was simply cold water, even if she held it in her hand, the bottle would quickly cool.

Sixth, after the offering stands were removed, the empty bottles were placed close to Toshie, and around the middle of her prayer, Yukichi sat down beside her.

Seventh, when the divine water was coming down, Toshie was in tears and sweating and seemed to be having a very hard time filling the empty bottles with divine water.
Deducing from these points, the newspaper reporter concluded that the source of the divine water was the belly of the living goddess. According to Yukichi, Toshie was wearing a narrow belly band*14. If this is true, it would be a good place to stash bags of various water reserves inside the belly band.
For example, the newspaper reporter pointed out, there may be a device in which a rubber bag with a tube is pre-filled with chemical water, and if the stomach is pressed down from the outside, the water will come out of the tube. In other words, the water comes from Toshie's belly and is never divine water.
This is the kind of trick often used in Western magic tricks. According to the newspaper reporter, the street performance with the Japanese drinking cup is still more skillful compared to Toshie's trick.
The newspaper writer concludes his article by saying,
In Osaka, there is a tendency to believe in magic spells and fortune-telling and to appreciate mysterious things like magic tricks. In other words, I hear that many people dislike relying on legitimate religion and sanitary medicine, but this is no longer a world that makes a fuss over Shingon esoteric Buddhism and the living goddess.

I hope that Japanese people will think about the reason of things and avoid saying mysterious things.
Are you convinced by this newspaper reporter's deduction?
The validity of Toshie's psychic experiment in Osaka and the newspaper reporter's deduction will be examined in detail in a later article.
And So the Legendary Trial in Japan's History Begins
On December 12, 1900, five months after the above newspaper article was published, Toshie conducted an unprecedented psychic experiment at the Kobe District Court at the suggestion of the chief judge himself.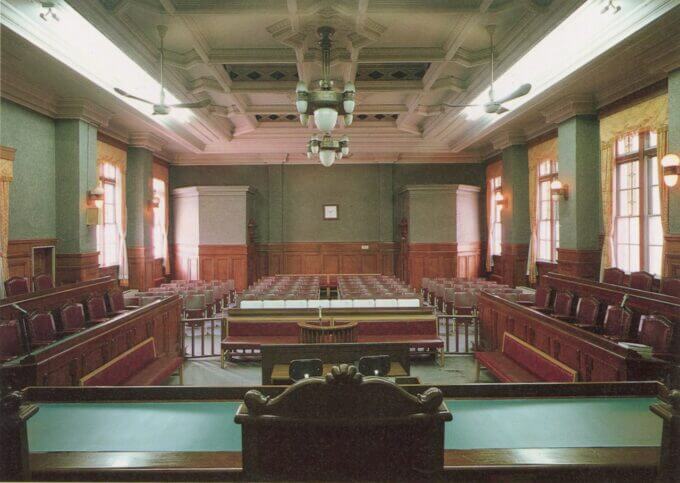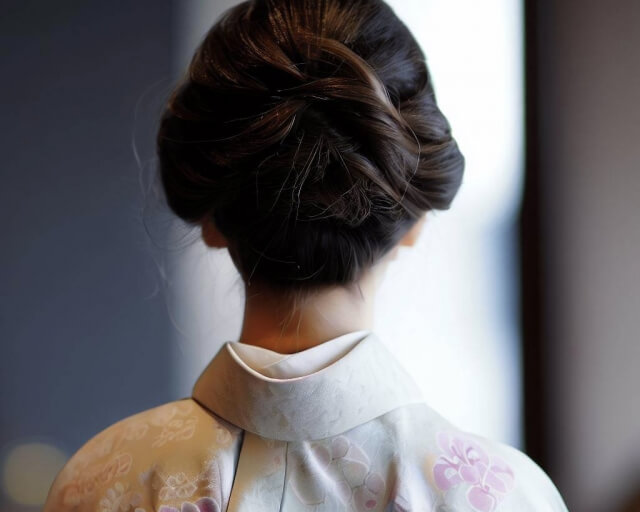 In my next article, I would like to share the details of Toshie's amazing psychic experiment, which took place inside a courtroom, an unprecedented event in the history of Japanese courts.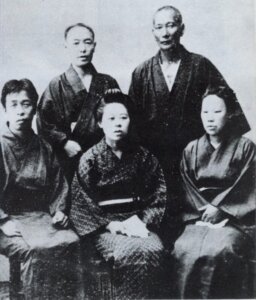 Published on June 17, 2023
Updated on July 29, 2023
Written by OTAKUPAPA
References
1. Osaka Asahi Shimbun, July 9 to July 11, 1900, page 9.
2. Wasaburo Asano, August 15, 1930, "Furoku Osanami Toshie Monogatari (Appendix: The Story of Toshie Osanami)", Shinrei Bunko (Psychic Library), "Dai Sanpen Zoku Yuukon Mondou (Part 3: Sequel to Ghost Question and Answer)", Shinrei Kagaku Kenkyukai (Psychic Science Society).
3. Nihon Shinjin Den (biographies – Portraits of the spiritual giants who moved Japan" (Esoterica Selection), Author: Tatsuhiko Fujii, Publisher: Gakushu Kenkyusha, May 2001.
4. Tetsuro Tanba, March 1, 1983, Reijin no Shomei — Zokuzoku Tanba Tetsuro no Shisha no Sho (The Proof of the Spiritual Person — Sequel to Tetsuro Tanba's Book of the Dead), Chuou Art Publishing Company.
5. Tatsuhiko Fuji, May 2001, Nihon Shinjin Den – Nihon wo Ugokashita Reiteki Kyojin Tachi no Shouzou (Biographies of Japanese Spiritual Persons – Portraits of the Spiritual Giants Who Moved Japan) – " (Esoterica Selection), Publisher: Gakken.