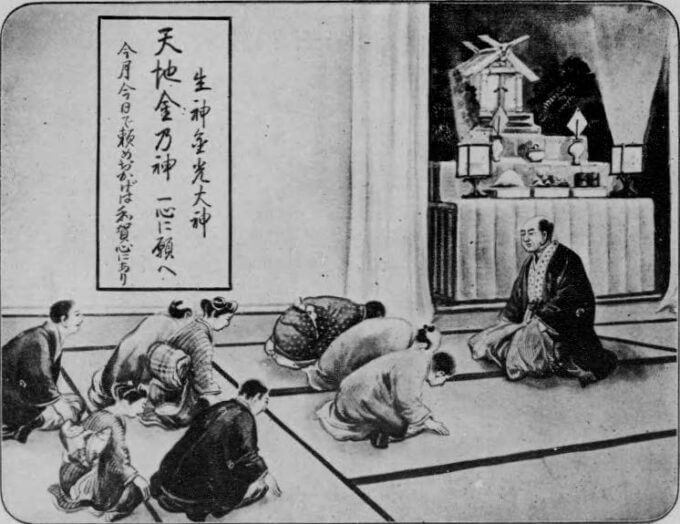 In this article, I would like to introduce the bizarre life of a Japanese man who had five family members killed by a divine curse, but later became an intercessor for the god and saved many people from hardship through the power of divine miracles.
The Strange Life of a Man Whose Five Family Members Were Killed by a Divine Curse
Early Life of Bunjiro Kawate
Bunjiro Kawate (川手文治郎) (1814-1883) was born the second son of Juhei Kandori and Shimo Kandori, farmers in Urami Village, Asaguchi-goori, Bicchu Province ( present-day Konko-cho, Asaguchi City, Okayama Prefecture), Japan.
On November 26, 1825, when Bunjiro was 12 years old, he was adopted by a distant relative, Kumejiro Kawate, a farmer in Otani Village ( present-day Konko-cho, Asaguchi City), one village away from Urami Village.
In Japan at that time, the only way for the children of farmers other than the eldest son to survive was to go to work as servants, be adopted by another family, or spend the rest of their lives as servants in the family of their birth.
When he was adopted into the Kawate family, he was given the name of his great-grandfather of the Kawate family, and his name was changed to Bunjiro Kawate. In other words, he changed his name from his birth family's childhood name, Genshichi Kandori, to Bunjiro Kawate. Later he changed his family name to Akazawa in accordance with the will of his adoptive father, and later changed his name to Bunji Akazawa, but to avoid confusion, the names are unified here as Bunjiro Kawate.
In 1836, Bunjiro's six-year-old brother-in-law Tsurutaro died of abdominal pain and convulsions, and less than a month later, his father-in-law Kumejiro also fell ill with dysentery and passed away following his own son. Due to the sudden death of his father-in-law, Bunjiro took over the Kawate family at the age of 23. That same year, he took Furukawa Tose from the same village as his wife.
Bunjiro was so religious, polite, and well-liked that other villagers called him "Shinjin-Bunsa" (meaning Faithful Bunjiro). Bunjiro was well respected in the village for his diligence and honesty, and he was also relied upon for official duties in the village, such as delivering village taxes to the clan office and accompanying the village headman. Bunjiro's work was also remarkable, to the surprise of the villagers.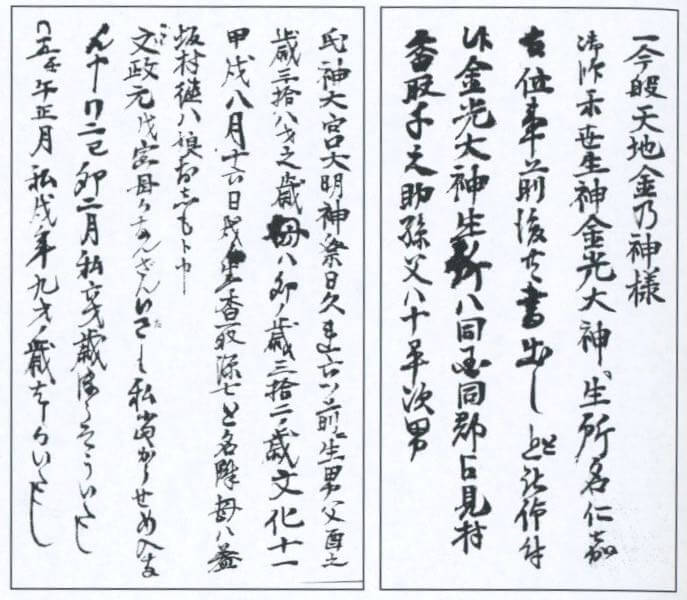 When Bunjiro took over the reigns of his family, the fields he inherited from his late adoptive father were about 790 tsubo (about 1,860 square meters). Twenty years later, it had nearly doubled in size, and Bunjiro's success was so great that he was ranked tenth from the top in the village. During this period, Bunjiro worked energetically to renovate his house three times: building a new bathhouse and lavatory, constructing a gate barn, and remodeling the main house.
The Tragedy of Bunjiro's Family, Who Suffered a Tremendous Divine Curse
However, despite Bunjiro's remarkable work and achievements, a dark shadow began to cast over Bunjiro's family, and for some reason, a string of misfortunes followed.
Two and a half years after Bunjiro's marriage, his first son was born, but died at only four years old. Two months later his second son was born, and after this he had three more boys and three more girls, but his eldest daughter died of illness at age 0, and his second son died of illness at age 9.
Furthermore, Bunjiro was struck with grief when two of the Kawate family's valuable cows, the most valuable assets to the farmers, fell ill and died. Strangely enough, these two cows died of illness one year and the next year respectively, both on the same day.
In the end, Bunjiro ended up building as many as seven graves, beginning with the deaths of his brother-in-law Tsurutaro and father-in-law Kumejiro.
From this "seven" number of graves, Bunjiro could not help but wonder if the cause of this string of misfortunes was due to the curse of Konjin (the Golden God). One of the superstitions that was ingrained in the people of Okayama Prefecture at that time was "Konjin Seven Kills" (金神七殺).
Konjin (金神, "the Golden God") is an itinerant Kami (a divine spirit) from Onmyōdō (a traditional Japanese cosmology and system of divination based on the Chinese philosophies of Wu Xing (Five Elements) and Yin and yang).

Konjin was associated with compass directions and was said to change position with the year, lunar month, and season. Konjin's momentary location in space at any given time was considered an unlucky direction because Konjin was said to be particularly violent and said to punish through curses.
According to the legend, once a person disrespects Konjin and is cursed by the god, death will befall seven members of the family, including the person who disrespects Konjin. It was said that if the family of a person cursed by a Konjin was not seven, even the next-door neighbors would be involved and be cursed to death by the god; hence, the Konjin was feared by the people.
As an episode that conveys the terrible curse of the Konjin Seven Kills, the "Funaho Town Journal" (1968) records the story of Uta Ono, commonly known as "the old woman of Kakiwadani" in Kakiwadani (now Funaho Town, Kurashiki City, Okayama Prefecture). According to the report, Uta was cursed by Konjin, up to seven of her eight children were cursed to death, and her last remaining daughter, Haru Ono, was also blinded.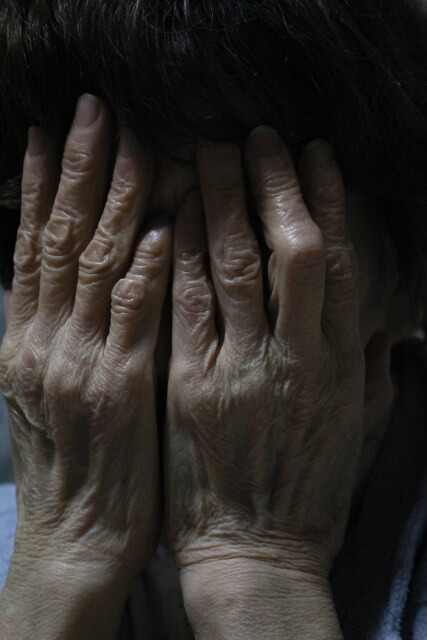 In Bunjiro's mind, there was a growing fear that the three series of renovations to his house had violated the direction in which Konjin resided and that he had unwittingly disrespected Konjin, and thus had received the curse of the god. In fact, after Bunjiro built the bathroom in his house, his first son died; after he built the gate barn, his first daughter died; after he built the main house, his second son died; and two of his cows died on the same day two years in a row. And with his father-in-law and brother-in-law, who had died earlier, seven deaths had occurred in Bunjiro's family.
Bunjiro Recovered from a Serious Illness after Receiving a Divine Message
In 1855, Bunjiro reached the age of 42, which was supposed to be an age of bad luck for men in Japan. Not wanting to have more bad luck, Bunjiro decided to visit nearby shrines and temples, including the Kibitsu Shrine, early in the new year to pray for protection from bad luck.  
In late April, however, Bunjiro began to experience physical discomfort and fell ill, and eventually, he could no longer even drink hot water. Bunjiro's illness was "nodoke" (tonsillitis).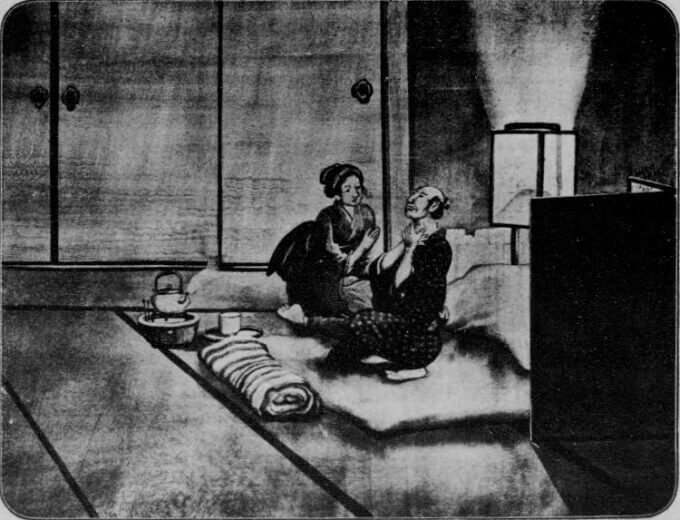 Bunjiro's relatives called in a doctor to treat him, but his illness worsened day by day. The doctor told Bunjiro's relatives.
He will have a hard time even narrowly escaping death.
Finally, Bunjiro was in such a serious condition that the doctor gave up on him. So, there was nothing they could do but pray to the gods for Bunjiro's recovery. On the evening of the 29th, the last day of the month, Bunjiro's relatives gathered at his house and began praying to the gods for the healing of his illness. At this time, it was Bunjiro's wife's younger brother, Jiro Furukawa, who performed the yori-gito for Bunjiro's recovery.
Yori-gito (寄祈祷), also called yori-kaji (寄加持), is a ritual in which evil spirits that cause illness are transferred to the body of a miko (巫女, priestess), and the ascetic exhorts or chastises (or sometimes exorcises) the evil spirits through the miko, to make the evil spirits repent and leave the body of the sick person.
Furukawa was a worshipper of Mt. Ishizuchi in Iyo (present-day Ehime). Mt. Ishizuchi was considered Shikoku's number one site of ascetic practices and was known as one of Japan's seven sacred mountains.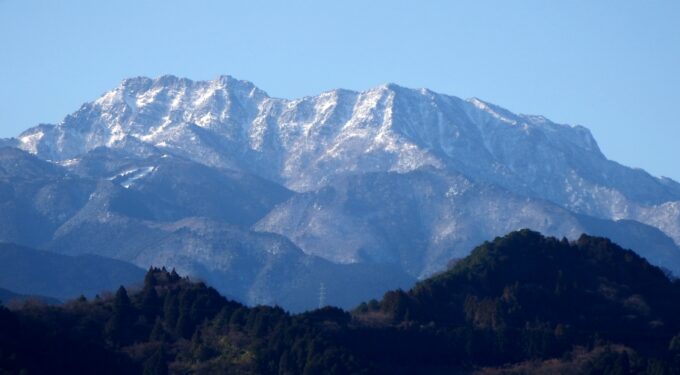 Furukawa was also a skilled mountain ascetic who would lead the ascetic followers when they entered the mountain's peaks. Thus, Furukawa conducted a yori-gito for Bunjiro's recovery.
As Furukawa recited a ritual prayer before the gods and offered fervent prayers to the various gods he believed in daily, his face gradually became flushed, and the gohei (wooden wands, decorated with two shide (zigzagging paper streamers) used in Shinto rituals) in his hand and his lips trembled and quivered. Suddenly, Furukawa became possessed by a god and announced in a stern tone to Bunjiro's relatives gathered there.
I am a god Ishizuchi.
According to Ishizuchi god, when Bunjiro built an addition to his house in 1850, he violated the direction in which the gods of Hyoubi and Konjin were located and was disrespectful to these gods. In response to the Ishizuchi god's words, Bunjiro pushed himself up from his critical condition to offer a sincere apology for the disrespect he had unknowingly shown to the gods.
I don't know in which direction I was disrespectful at that time, because of my mediocrity and ignorance. However, I am deeply sorry for all the disrespect I have unknowingly caused to the gods.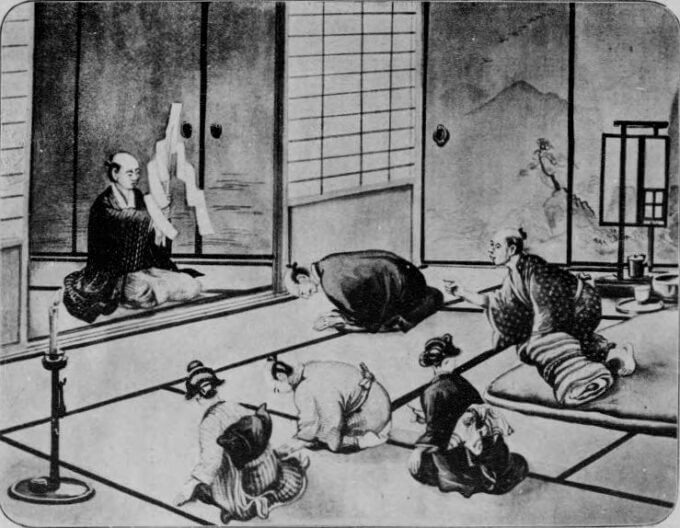 Perhaps impressed by Bunjiro's heartfelt apology, Ishizuchi god urged Bunjiro to come to the altar. As Bunjiro crawled forward to the altar, Ishizuchi god told him,
The gods will repay resentment with virtue and save you.
The Ishizuchi god, who had spoken this to Bunjiro using Furukawa's mouth, further moved Furukawa's hands to draw the gohei in his hands up to the tray containing the five grains that had been offered before the god.
Then Furukawa lifted the gohei and found that, strangely enough, the soybeans and rice were softly attached to the gohei.
Make the soybeans and rice attached to the gohei into porridge and feed it to Bunjiro.
The Ishizuchi god told them so. Bunjiro ate the porridge prepared according to the Ishizuchi gods' instructions, and after about five days, the illness, which had been so serious, disappeared completely.
The Many Miracles of Konjin Experienced by Bunjiro
Bunjiro realized that divine salvation was real through this mysterious experience, and his faith deepened. But Bunjiro's strange experiences did not stop there.
In 1857, Bunjiro's younger brother, Shigeemon Kandori, also began to be possessed by a Konjin, which prompted Bunjiro to begin worshipping the Konjin through Shigeemon. Eventually, Bunjiro himself came to understand the revelation of Konjin and had numerous mysterious experiences.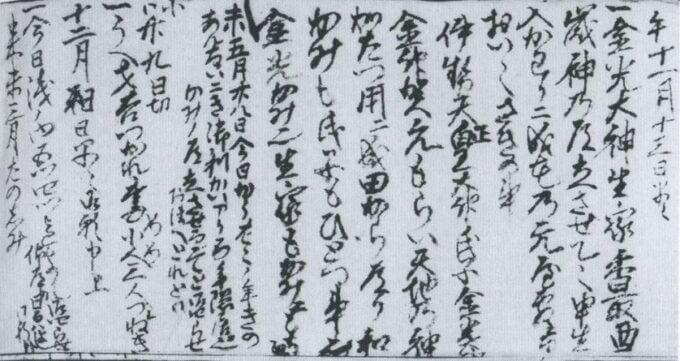 In July 1858, during the earning season, there was a massive outbreak of Unka (planthopper), a pest of rice.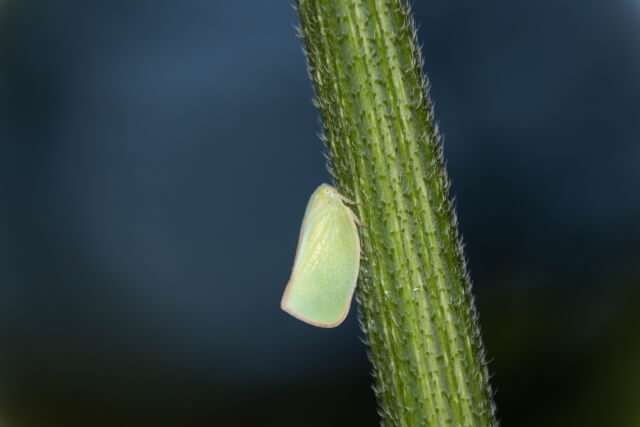 So, farmers everywhere began to exterminate Unka by pouring oil into the rice paddies in order to drop them and suffocate them to death.
However, Konjin told Bunjiro the following.
Don't put oil in your rice fields. I'll tell you whether or not Unka will eat the rice.
Tonight, you should sleep in the room where the altar of Konjin is located, without hanging a mosquito net.
You have the constitution to get a rash from mosquito bites, but if you don't get bitten by a mosquito tonight, think that Unka won't eat your rice either.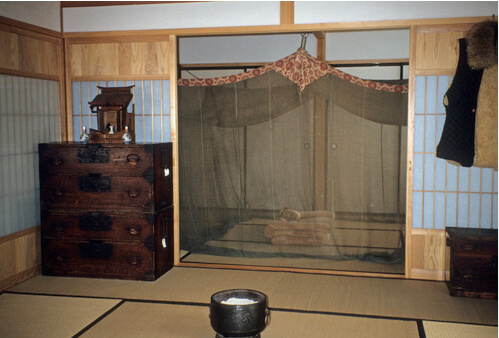 Thus, Konjin ordered Bunjiro to put oil only in the rice fields used jointly but leave his rice fields without oil. Bunjiro went to bed without hanging a mosquito net in the room where the altar of Konjin was located, as ordered by Konjin. That night, even though mosquitoes were buzzing around and Bunjiro could not sleep, strangely enough, no mosquito bites or itches anywhere on Bunjiro's body.
Also, as Konjin said, even though Bunjiro's rice fields were not oiled, they were not eaten up by Unka. On the contrary, Bunjiro's fields bore more magnificent ears and yielded a much larger harvest than any of the other farmers who had put oil in their fields.
Konjin would also let Bunjiro know in advance of the days when people would visit him and told him not to go out on those days, and indeed, people visited him on that day just as Konjin said.
Furthermore, Konjin's predictions to Bunjiro regarding the weather, the most important factor in farm work, were all correct, without the slightest error. Konjin told Bunjiro,
People in the world say, 'I don't know what the weather is like because I have no relatives in heaven,' but I will give you relatives in heaven.
Then Bunjiro knew the weather changes in advance as if he were being told about the weather by his heavenly relatives and farmed, and the nearby farmers marveled at Bunjiro's uncanny ability to know the weather in advance.
Then, on October 21, 1859, Bunjiro received a request from Konjin,
To help those who are in trouble, I would like you to be my intercessor to deliver my words.
Bunjiro accepted Konjin's request, and he decided to devote himself to serving as Konjin's intercessor, using his home as Konjin's shrine. This request from Konjin to Bunjiro is called "Rikkyo Shinden" and is the beginning of the Konkokyo religion.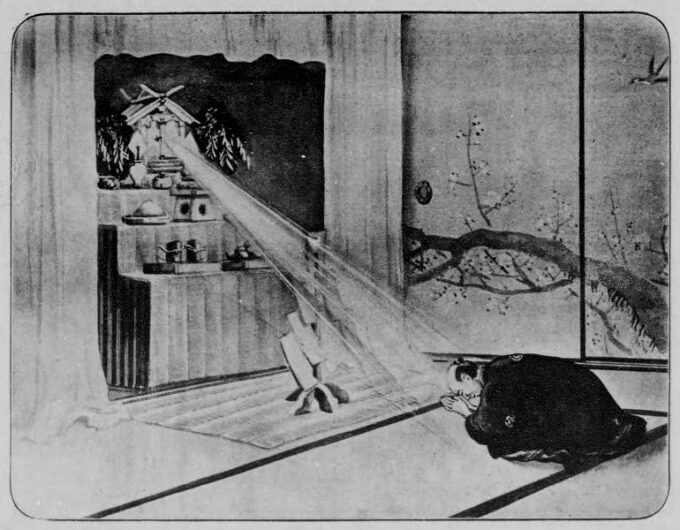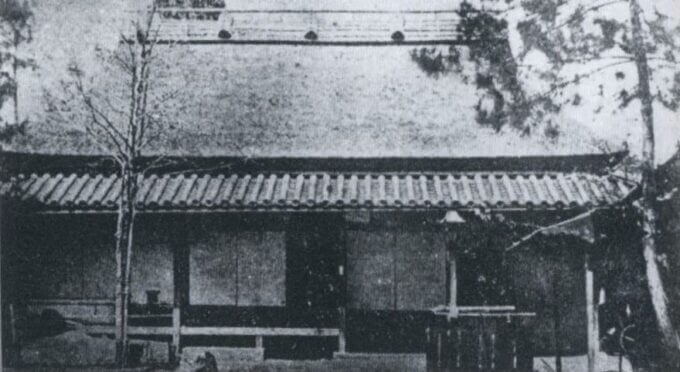 Soon Bunjiro was visited one after another by people from all over Japan who were suffering from hardships.
There was a man named Seishiro Tsutsumi in Shiga Prefecture. Seishiro had an acquaintance who was a believer in the Konkokyo religion. Seishiro believed that his acquaintance must have been deceived by Bunjiro. So Seishiro went out to Bunjiro with the intention of revealing the identity of the living god.
Bunjiro said to Seishiro, who had come all the way from afar to visit him.
You must have had both interesting and painful experiences since you have walked many places.
Seishiro replied with a proud look on his face.
There is no place from Edo to Nagasaki that I do not know.
Then Bunjiro asked Seishiro.
Then you must know about the Land of Nesoko (the Land of the Dead) too, right?
There is no such place.
Seishiro replied in this way, but Bunjiro casually said,
It must be the land of Nesoko that you almost went to in Kawaguchi, Osaka.
With these words from Bunjiro, Seishiro shrank to the depths of his soul. This is because, on his way to Okayama to uncover Bunjiro's true identity, Seishiro had accidentally fallen overboard at a ferry crossing at Kawaguchi, Osaka, and nearly stepped into the land of the dead.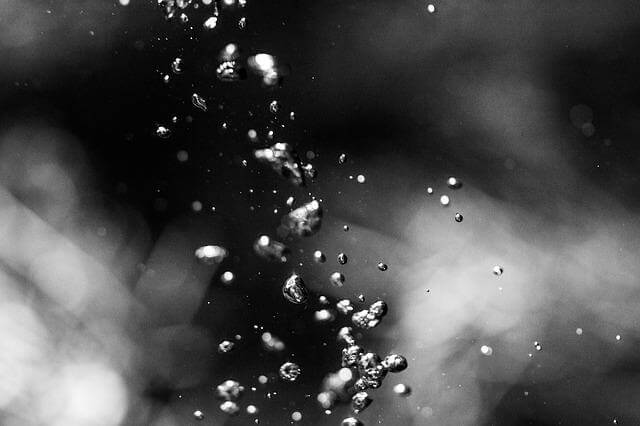 Bunjiro also had the ability to miraculously heal the sick. Many of his high disciples joined the Konkokyo religion as a result of being healed of their illnesses by Bunjiro.
One of Bunjiro's most prominent disciples, Shigeemon Saito, entered the Konkokyo faith after Bunjiro healed him of his wife's illness, which had been abandoned by her doctor.
Another of Bunjiro's high disciples, Shinichiro Shirakami, lost his sight in 1859 at the age of 41 after suffering from a serious eye disease. Since then, Shirakami had undergone all the medical treatment he could at the time, and he had also prayed to numerous gods and Buddha, but Shirakami's eyesight did not recover.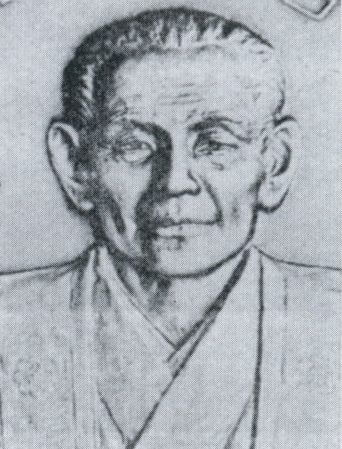 However, when Shirakami learned of Bunjiro in 1869 at the age of 51, he began to believe in the Konkokyo religion. And when Shirakami continued to devote himself to Konjin's religion diligently for about a year, Konjin's miraculous healing effect appeared at the end of the year, and his eyesight was restored until he could see clearly by the following New Year's Day.
Also, Fujimori Kondo, who at the age of 25 suffered from an incurable disease called "Nourou," which causes the brain to decay, miraculously recovered from his illness overnight after joining the Konkokyo under the guidance of Shirakami.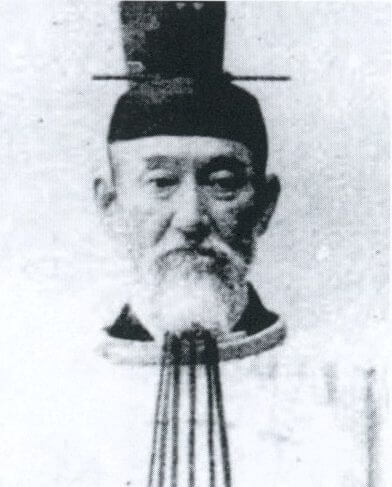 Although Bunjiro demonstrated many miraculous healing abilities, he was subjected to various obstructions and persecution for practicing priesthood-like activities, despite the fact that he was a farmer. Bunjiro, who had no professional religious credentials, came under the scrutiny of the state, and in 1873 he was finally forced by the order of the village mayor to remove Konjin's shrine.
Bunjiro passed away before dawn on October 10, 1883, at the age of 70.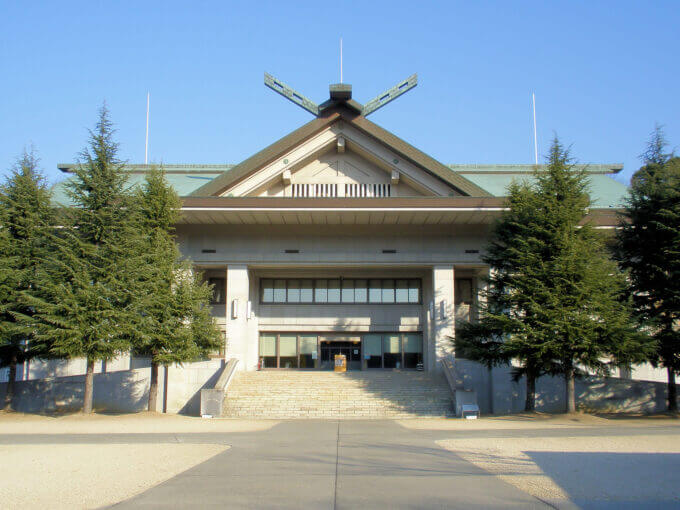 Published on May 5, 2022
Written by OTAKUPAPA